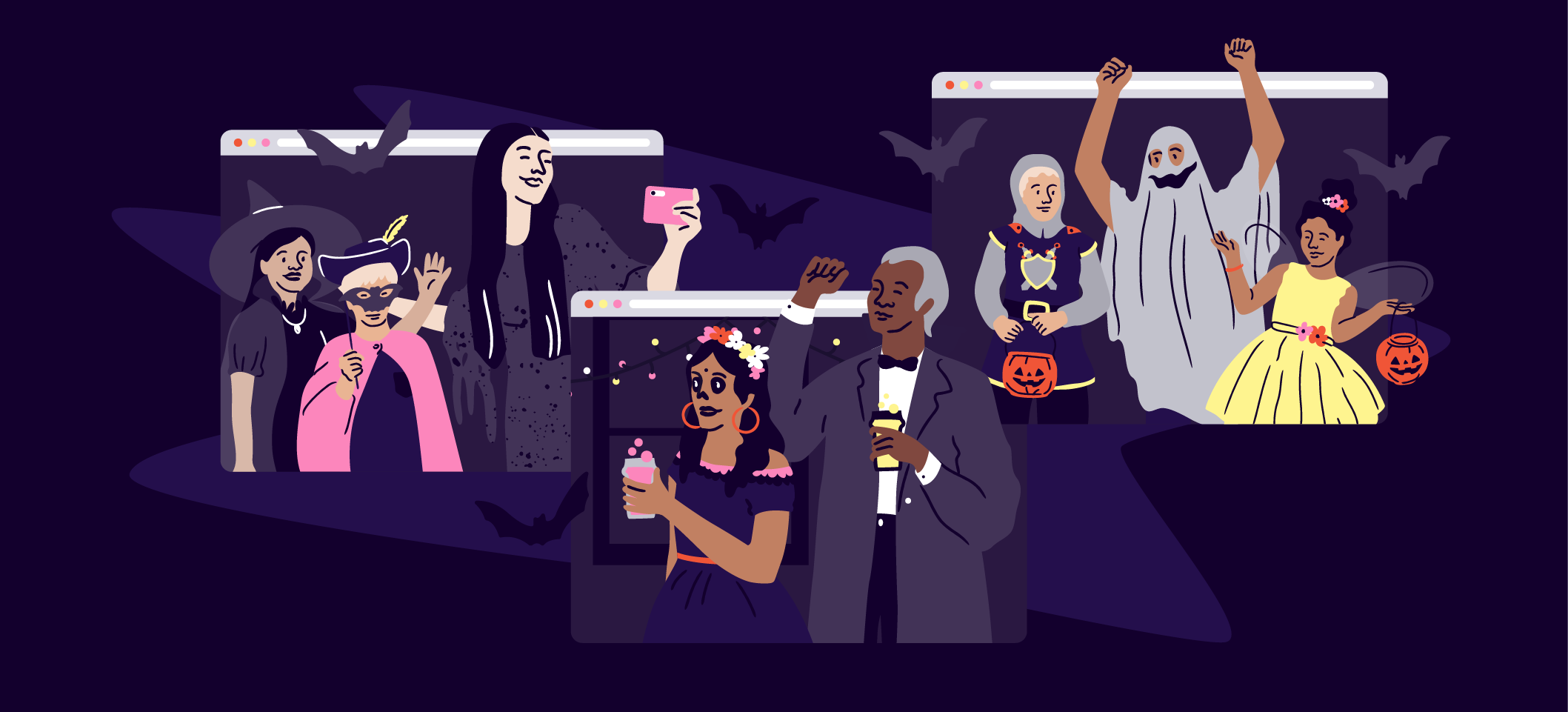 It's Not Too Late to Host a Virtual Halloween Event
Halloween 2020 isn't cancelled – it's just going virtual.
If you're still thinking of hosting an online event for Halloween, don't be dismayed by the date on your calendar. In fact, unlike in-person events, tickets to virtual events often sell best closer to the actual date, so there's still time! Here's our best advice for throwing a fabulously spooky virtual Halloween event.
First thing's first: Make sure you're set up to host a killer online event
That doesn't mean you need a ton of audio equipment or a super fancy webcam. Instead, use what you have to your advantage, like plugging your laptop directly into your router for a faster connection than Wi-Fi, or ensuring your microphone is using its optimum settings. We've put together a handy guide for you to get started on hosting a high-quality livestream.
If you absolutely hate dealing with the technical side, you can even hire a virtual streaming agency like Elevated Stream to act as a day-of coordinator. They'll help the event flow smoothly and work out any issues that might come up.
Make it festive with fun merch
Sending your attendees participatory items or add-on kits, like Halloween decorations, sweets, or costume accessories, can help everyone feel like they're part of the action, even when you're far apart. You can include these goodies with your ticket prices, list them as an add-on, or send them as complimentary treats.
For instance, when someone buys a ticket to the popular morning dance party Daybreaker LIVE, they're often sent a "mischief kit" the week before. These kits encourage attendees to get creative with themed craft DIYs and makeup tutorials that start the party early.
The best part? Including physical items with your virtual event adds to your bottom line. Learn more here. 
Choose the right platform
The perfect video hosting platform depends on what type of event you'll be throwing. For a webinar on the Salem witch trials, or a "sweet and wine pairing" happy hour, you might prefer Zoom to seamlessly control audience participation. For a live-streamed horror flick event, look into Vimeo, where you can send out a password for your stream along with your tickets. (If neither of those platforms seem quite right, check out our article on choosing the right video hosting platform and discover the best option for your event.)
Understand what your attendees want
A sense of community and a feeling of escapism are two things event-goers are looking for during the pandemic. Luckily, Halloween is the perfect opportunity to give them a little bit of both! Think about what your attendees expect from an online event, and craft the experience specifically for their needs. And don't worry, you don't have to guess: We've asked them for you.
Make your online event safe
Online trick or treating might help kids avoid COVID-19 exposure, but safety is still important for virtual events. Use a password for your event, set guidelines for attendees and personnel alike, and expect to moderate any communication and attendee interaction during the event. Most importantly, make sure you turn on your meeting platform's highest security features to keep both kids and adults safe.
Market your event in a smart way
You don't need a long-term marketing plan to throw a successfully spooky online Halloween event. In fact, online events that launch marketing campaigns the week before the event sell more tickets. And if you're selling tickets on Eventbrite, our built-in marketing tools (like email campaigns, social media connectivity, and website embedded checkouts) help you get the word out fast.
Take some tips from the pros
In the six months since COVID-19 first forced events online, creators around the world have done the work to figure out best practices for virtual events. The CEO of Daybreaker became an expert in livestream technology through trial and error, Murray's Cheese in NYC learned how to make their cheese tastings work remotely, and Renegade Craft Fair succeeded in making their first virtual fair even more interactive than their in-person events.
With all that work already done, your event doesn't have to be a guinea pig. Instead, Frankenstein their tried-and-true tips together to host an engaging virtual event.
Make sure your event is inclusive to all
Inclusivity, diversity, and accessibility aren't just buzzwords: They're requirements for modern events. But meeting today's standards of inclusivity doesn't have to be difficult or expensive: Consider adding closed captioning to any creepy videos you might show, including trigger warners, creating a code of conduct for you and any costumed staff, and using inclusive language in your listing and on the day of the event. (Halloween is great for this. After all, "ghouls and goblins" is a gender-neutral greeting!) You can even offer sliding scale or donation ticket pricing, so trick or treaters of all income levels can attend.
Get feedback from your attendees
It's the morning after Halloween, but it's not time to move on just yet. Getting feedback on an event is like receiving free business advice from the people who matter most: Your attendees! 
Send out a short and efficient survey shortly after the event, asking what they loved, what they'd change, and what they want next time. Not only will feedback help you better understand their event experiences, but you'll get insider knowledge you can use on your next virtual event.
Now that you've got these tips and tricks, it's time to treat attendees to a virtual Halloween event!