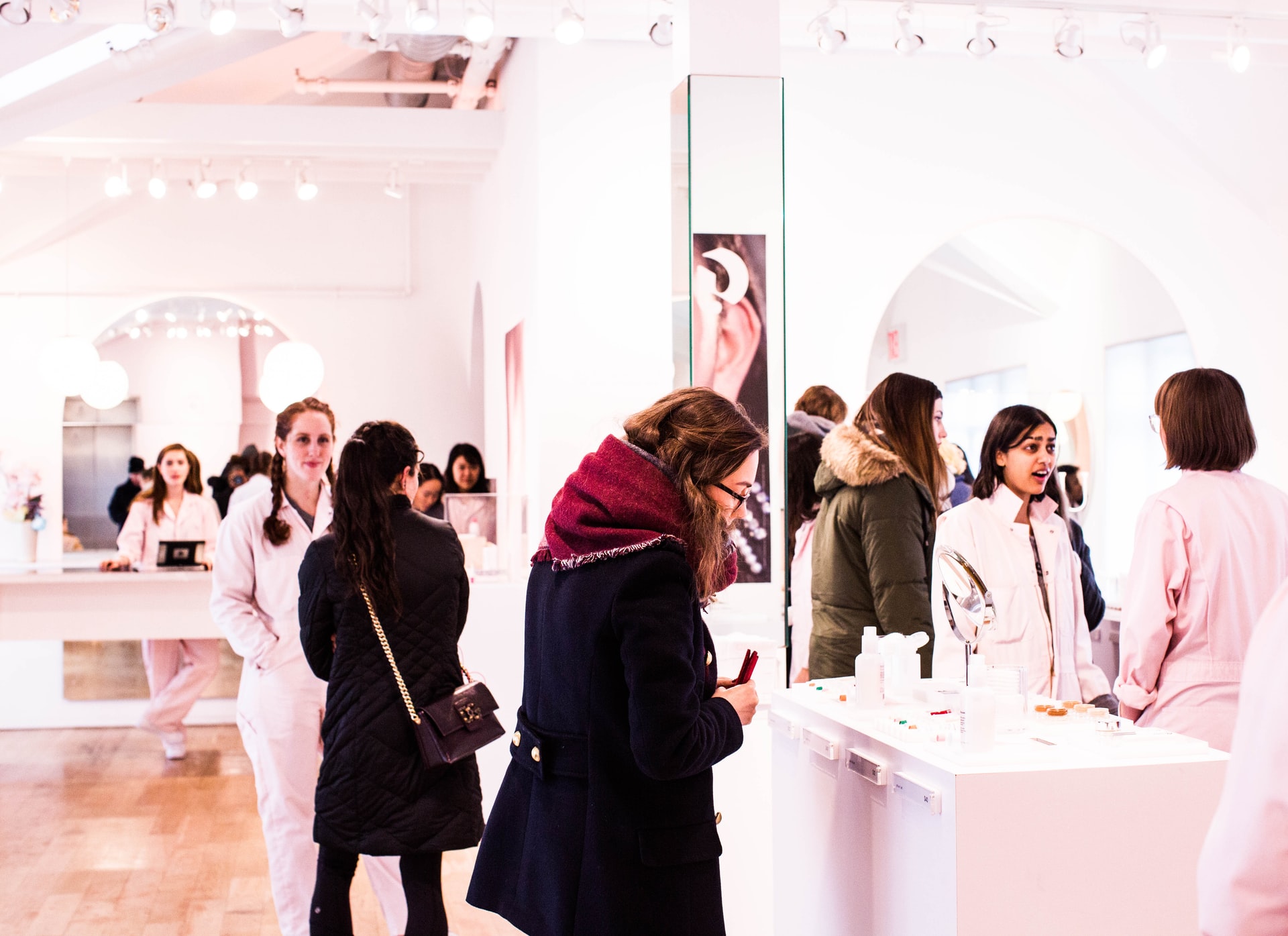 The Complete Guide to Mastering Store Events: Retail Event Ideas, Tips, and Stories
Brick-and-mortar retailers have a key advantage over point-and-click shopping: there's an actual space to bring people together. As a retailer, having a physical store gives you access to customers who share an interest in your store's products. This connection is just waiting to grow.
Creating in-store events is a great way to both bring your customer base together and to grow your community with outsiders intrigued by the goings-on. They can effectively reinforce relationships between you and your customers, reminding people why they already love your products and providing an opportunity to introduce them to your latest offerings. All you really need are some fun retail event ideas.
Fortunately, you have Eventbrite. We offer an array of tools, such as Eventbrite Boost, that make it easy to market and promote your in-store event on social media and other communication channels. We also make it easy to incorporate streaming platforms and create hybrid events to include audiences that simply cannot make it to your store. Plus, you'll find a wide variety of additional resources, including blogs and articles full of tips and advice on a range of subjects, registration and ticketing tools, and data reports, all designed to help you make the most out of your events.
To start you off, we've put together this guide full of event ideas for retail stores so you can take full advantage of the space you have available.
The basics of in-store event ideas
When brainstorming ideas for in-store events, it's good first of all to take a broad overview of your store, your community, and your goals before deciding on a format and topic. This helps you create a solid foundation on which to build your event and enhances your chances of success.
Knowing your community means knowing your audience.

It's a golden showbiz rule: know your audience. After all, if you don't know who your audience is, how will you know how to interest and inspire them? And in your case, your audience will, first and foremost, likely be made up of your customer base. So be sure to notice who your customers are. Are they older or younger? Married or single? Students or professionals? The types of events that appeal to students, for example, will likely be different than those that will appeal to families.

It's all about connecting with your brand.

While whatever event you decide on can be interesting and entertaining in and of itself, it's important to remember that the purpose of hosting an event is to grow your brand by growing your community. This means it's essential to take full advantage of every branding opportunity you can. For example, you might promote the event as being 'presented' by your brand, so that your community immediately associates your brand with the event.

Make a spectacle of yourself.

If you want to get noticed, it helps to do something that's noticeable, so be sure to make your event stand out. While a book reading of the newest murder mystery at your independent bookstore might be an easy choice, turn it instead into a murder mystery event and have your guests figure out who the 'murderer' is. Take what's unique about your store and highlight that with your event. Bookstores are full of stories, so focus on story themes or characters. If you run a fashion boutique, a fashion show complete with a catwalk might get some attention. Let your imagination run with it.

Feast on festivities.

Dates around public holidays are perfect times to schedule retail events. People are already generally in a good mood, they're more willing to go out to events, and they can often be in the market to purchase gifts as well. Plus there will probably be more foot traffic in general around your store's location, so your event will be more likely to attract passers-by who may not be familiar with your event or your retail store.
Retail event ideas to get you started
Now that you've considered some foundational concepts for your event, it's time to dive down and determine what sort of formats and topics will help your store marketing plan. The most important thing to remember, no matter what idea you decide to go with, is to adapt it to suit your brand's identity. That way, your guests will both have a singular experience that's not quite the same as any they've had previously, and you'll reinforce your branding by making it integral to the event.
Do good and be rewarded.

Turn your event into a fundraiser and make a contribution to society while associating your brand with altruistic and noble undertakings. The great thing is, it doesn't really matter what sort of retail sector you're in; there's almost always a charitable angle that you can pursue. If you have a bakery or sweet shop, host a fundraiser benefiting underprivileged children in your community. A local beauty store might focus on women's issues and host a fundraiser for ovarian cancer research.

Attention, class.

People love to learn, especially when it's about something they're interested in and want to explore. Classes or demonstrations that teach your attendees a new skill or give them new knowledge can be effective, especially if your store sells products that are used in the class. For example, cooking classes and demonstrations make natural – and popular – events for stores that sell kitchen appliances. Similarly, if you sell electronics goods, host a demonstration that showcases new gadgets or recreates experiments that Tesla or Edison may have tried out.

Howdy, partner.

Turn the phrase, 'the more, the merrier' into a business plan and partner up with another local business. It lets their customers find you and your customers find them, benefitting all. This is especially effective if you or your partner business has easily transportable goods. Restaurants and dessert shops are good businesses for this sort of event – turn the crêpe restaurant down the street into a pop-up shop in your store and watch the crowds conglomerate.

Eyes on the prize.

If you have a special product you want to draw more attention to, consider hosting a product showcase event that spotlights everything you want people to know about the product. Maybe it's a new fashion line for your cool boutique – hire some models and show off the goods. Make the presentation especially attention-grabbing with spotlights and music.

Is this thing on?

Guest speakers can make excellent events, especially if the guest is noteworthy or accomplished. An author at a bookshop is a classic example, but there are a host of other possibilities. Invite the designer of a popular jewellery line to speak at your boutique and show off how she comes up with her styles. Or invite an e-sports champion to your video game store for a signing and let him show local kids how he makes those cool moves.
Make yourself known with promotional event ideas for retail stores
Alongside your event's overall format, there are opportunities for you to further promote your brand during the event. These can take the form of sales promotions that will familiarise your guests with your latest products, for example. Since you're hosting this event, you'll want to brainstorm as many retail marketing event ideas as possible, so you can take full advantage of your investment in the event.
Get it trending.

Social media can be a great way to get the word out about your event. Offer a promotion to anyone who shares posts about your event and give them 10% off in-store.

Eventbrite Boost

makes it easy to promote your event across a range of social media sites, which can magnify the number of people who learn about your event.

It's all about the merch.

Offer a limited number of goodie bags stocked with some of your favourite items on a first-come, first-serve basis to inspire early arrivals. There's a reason big-name companies give free gifts to celebrities at awards shows. The more people that know about your product, the better, and sometimes it helps just to get it out there.

Win, lose, or draw.

Another time-tested way to promote your brand is with draws and competitions. Have a breakout during your event for a special prize draw, giving away a store item to the lucky winner. Or make it a competition – a trivia quiz is a classic, but make the questions focused on your evening's themes.
Success breeds success
Like anything, it can always help in the events industry to know what's worked in the past and what other event creators in similar situations are doing. So let's look at what some of our event creators have been up to and see if we can take inspiration from their success.
John Lewis puts the focus on beauty
As the UK's leading high-end department store, John Lewis has adopted a particular focus on beauty care, with products ranging from skincare and makeup to haircare and male grooming. Alongside beauty care products, their store emphasises a high-tech shopping experience. As a major part of that experience, they host an ongoing series of online and in-person events where a different brand is highlighted at each one. It gives guests the opportunity to try a new product and further strengthens the John Lewis brand as the go-to for beauty care.
Northern Wine School helps you taste wine like a professional
Based in Manchester, Northern Wine School believes that the more you know about something, the more you can get out of it. And they know everything there is to know about wine, spirits, and sake. They offer a wide range of different wine courses, and you can even become a scholar in French or Spanish wines. They also run regular events, including gin tastings with afternoon tea, whisky tasting evenings, and Saturday wine tastings with a three-course lunch.
Westland Place Studios sees the bigger picture
It probably comes as no surprise that a city as iconic as London is home to some excellent photography studios. Westland Place Studios are one of the oldest established art and design studios in London. They offer a full calendar of events throughout the year, including Discover Photography workshops, online Creative Photography courses, and Sketching The City drawing events. Their workshops are high quality, with all their tutors having professional experience, but they pride themselves on providing relaxed social events.
Waterstones loves a bookworm
Waterstones is the UK's leading specialist book retailer. Every year they run numerous events aimed at building their community of book lovers. Their typical customer appreciation event ranges from book signings with new and much-loved authors to book launches, talks, and poetry readings. They also take part in a number of literary festivals across the country. Their reputation as a specialist retailer means they can attract the biggest names to their events.
Turn your retail event ideas into event realities
Once you've decided on the best format for your store and have secured your guest speakers or event partners, create your event on Eventbrite. Take advantage of the array of marketing and promotional tools, including ticket sales and registration and Eventbrite Boost, the event promotion tool that makes it easy to market your event across social media platforms and more.
In business, that old maxim 'time is money' is as true now as ever. Don't let time – and money – slip away. Get your next event started today.