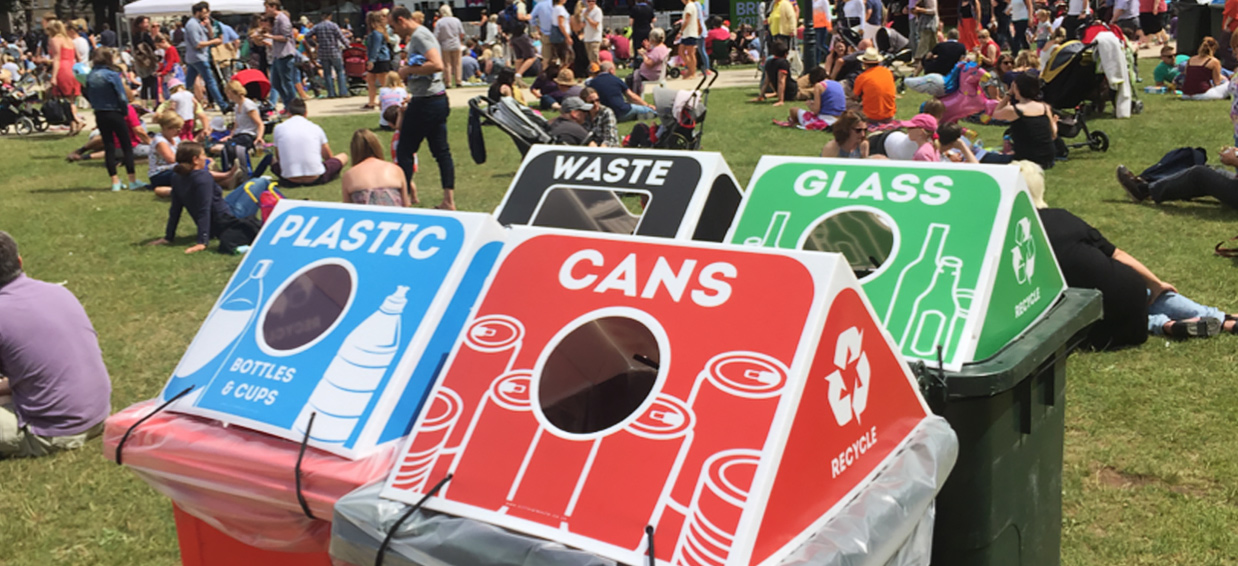 Top Tips for Going Green in 2020
This guest post comes courtesy of Greg Hall, a digital marketing executive at We Are Platinum.  We Are Platinum are an experiential marketing agency based in Dublin who work with leading brands on events and activations.  
Sustainability is something most conscientious brands want to improve on in 2020, but this may seem like a daunting task. This doesn't have to be the case! 
There are lots of benefits to going greener – from making a difference to the environment, encouraging more sustainable behaviour from attendees, and generating goodwill for your brand.
Get started with these 5 simple steps to kick start your eco-friendly journey in 2020.
1. Stick to Reusable Materials
Creating reusable, lasting take-aways is a great alternative to cheap throwaway merch and the dreaded single-use plastics.  Melinda Watson, the founder and CEO of Raw Foundation, says that up to "90% of plastic packaging worldwide is not recycled," which means that even items that are listed as recyclable in theory are not done so in practice. 
Instead, opt for environmentally conscious options, or single-use plastic alternatives such as branded reusable coffee cups, metal straws, and tote bags. As a welcome side-effect, when consumers re-use your items, your brand gains more exposure!
2. Go Digital, not Physical
Whenever possible, replace physical print with digital elements. For example, save paper by spreading information online through social media and email, instead of printing posters and leaflets.
Distribute e-tickets and e-receipts to replace traditional paper versions. 
Event ticketing platforms, including Eventbrite, can provide tickets with barcodes or QR codes that can be scanned direct from a ticket holder's device.  As well as being more sustainable, organisers can avoid the high costs associated with the printing and delivery of paper-based tickets, while event-goers have a more secure ticketing solution.
Showcasing events online through digital media increases event reach greatly, without contributing to physical waste or transport emissions. 
Making your branding digital makes it reusable. Invest in effective & lasting branding such as light up LED signs rather than less durable paper and plastic signage. We love to see brands using 'digital poster' LED screens to display branding and information at events. These are more versatile, more visual, and can be reused and repurposed endlessly.
3. Offset your carbon emissions with simple online calculators
Many tools exist for measuring your carbon footprint. They are a great way to give real understanding of the environmental impact your event has. The EPA have a carbon calculator that you can try here, and check out myclimate.org for a quick and easy flight emission calculator, with donations built in.
Measure your waste, energy usage, and transport to find out what donation is recommended. You can donate instantly to a sustainable development project approved by the UN. Donation costs are affordable too. For example, the Co2 emissions of a flight from Dublin to London can be offset by just a €4 donation! 
4. Make Waste Disposal Fun Again
If you are going to provide consumers with a product that needs to be disposed of after use, your brand should provide the solution to this as well.
Have fun with waste disposal, and create branded, experiential binning methods. An interactive, branded waste station goes down a lot better than your brand's products littered on the streets! Sprite used basketball hoops to do this, encouraging consumers to dunk their waste. 
If you've opted for biodegradable disposables, don't forget that special composting facilities need to be used for these to remain an environmentally friendly option.   You should also communicate your waste disposal or resource management plans in advance with your audience through marketing initiatives to ensure attendees get onside with your recycling efforts.
5. Reward Sustainability at Festivals
Festivals make up a large part of the event industry in Ireland. They also make up for a large amount of our event waste. Many festival-goers discard camping equipment made from polymers that take decades, or even centuries, to biodegrade. Encouraging behavioural change in consumers is necessary if we want to have sustainable festivals. 
One creative festival cleanup idea came from Bonnaroo festival in Nashville, where festival-goers can collect rubbish and deposit it at the 'Clean Vibes Trading Post' in exchange for prizes. These ranged from merchandise to VIP tickets, based on how much they collect!  Whenever possible, incentivise and reward your audience to behave in an environmentally friendly way. This way you'll feel good, they'll feel good, and the planet will feel good! 
Sustainability isn't just a trend, it's a necessity, and it will improve your long term success – Besides, how can your business survive if the planet doesn't!
We hope these 5 tips help you start 2020 on the right, eco-friendly path. For more tips on sustainability, download our free Sustainability 101: The Guide To A Greener Festival guide.