'An anthology of examples - On Documentation' Lecture performance by Frank Wasser (The Virtual Lectures)
About this event
The Virtual Lectures is a series of public lectures devised and delivered by artist and writer Frank Wasser during the covid-19 pandemic. The lectures are streamed online and have been supported by various institutions in Europe and Ireland including PPS. The performance-based lectures ranged from topics such as the histories of art and activism to the slippery histories of internet based art.
In his lecture "Lecture In Inauguration of the Chair pf Literary Semiology, College de France, January 7th, 1977, Roland Barthes declared that "For what can be oppressive in our teaching is not, finally the knowledge or the culture it conveys but the discursive forms through which we propose them"
'An anthology of examples - On Documentation' is a new lecture-performance by Wasser which seeks to consider and interrogate the impossible promise of documentation and the work of art by analysing previous lectures given by Wasser and art historical case studies of documentation.
Frank Wasser is currently pursuing a practice based PhD at the University of Oxford in Fine Art. Upcoming and recent projects include 'Title, to be announced' a performance-lecture at Catalyst Arts, Belfast (2021), 'SLIP' an artist novel published by MA BIBLIOTHÈQUE (2022). Wasser teaches at Tate and London Metropolitan University and has written for Art Monthly, Flash Art and the Visual Artists Newsheet. Wasser is supported by the Arts Council of Ireland.
Presented as part of 'Return to Disintegration'—Periodical Review 11, selected by Sheena Barrett, Alice Butler, Mark Cullen, Gavin Murphy.
All images are courtesy of the artist and 'Still from (Lectus-2021) A work in progress'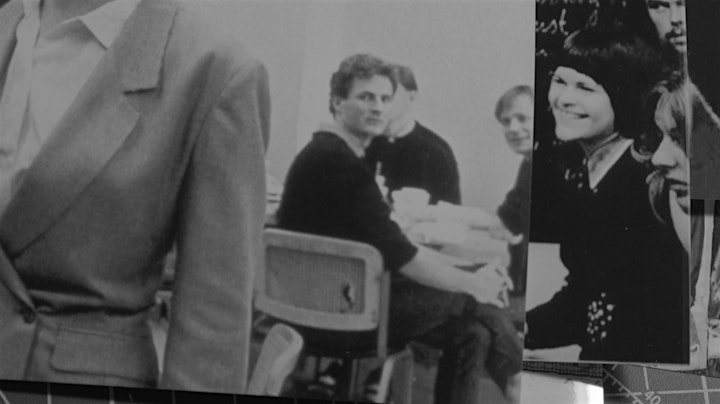 Organiser of 'An anthology of examples - On Documentation' by Frank Wasser
Pallas Projects/Studios is a publicly funded, not-for-profit initiative run by artists Mark Cullen & Gavin Murphy, operating artists' studios and a project space in Dublin's city centre. Pallas Projects/Studios collaborates with peers to engage and develop current Irish contemporary art, through a commitment to solo projects by Irish and international artists, alongside occasional thematic group exhibitions, and exchanges with artists' groups around Ireland and abroad.