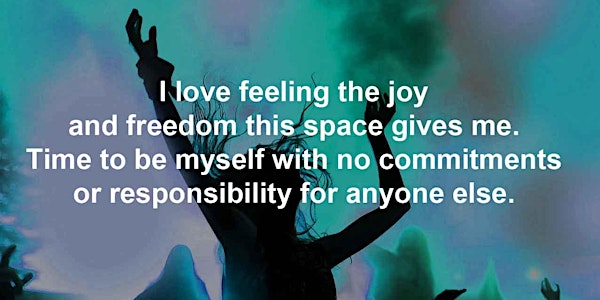 Multiple dates
Barefoot Boogie Dance Therapy
Move to a great mix of music in a creative, connected, community space
By Renata Day - Ren@Zen Healing
Date and time
Wed, 12 Oct 2022 18:45 - Wed, 13 Dec 2023 20:15 IST
Location
Farranfore Centre for Smart Ageing 4 Park Estate Farranfore Ireland
About this event
Be Healthy... be Happy with Barefoot Boogie
Barefoot Boogie is a tool for wellbeing – an hour of the week that offers you a pretty unique opportunity… just over an hour for YOU. No instruction, no interaction with others (unless you want to), it's simply music, low lights and space to explore.
BAREFOOT BOOGIE… Dance like no one is watching. It's simple. Move a foot, then a knee, then your hips, shoulders and head. Let the music take you on a ride, music from all times and genres, music that will move you.
Move to a great mix of music in a creative, connected, community space
• Dance therapy / Conscious dance
• No steps to learn
• Release stress
• Improve your health – flexibility, breathing, fitness
• Access joy and peace
• Feel alive and empowered
• Embody your authentic truth
• Fall in love with life again
• Mindfulness meditation, short live soundbath at the end of every class
Question: How much of the day are you truly able to feel relaxed, confident, happy and free?
Sadly, the reality of modern life is that our nervous systems are often daily under assault from challenges and pressures, from which we rarely have a chance to switch off. It can be hard to REMEMBER that life is a special and wondrous gift.
And, when people live in or around chronic stress, hostility, anger, anxiety, fear, depression or grief, this can lead to serious health problems and unhappy, difficult lives in the long term. We can no longer FEEL that life is a special and wondrous gift.
And so… Would you like to enjoy your present life more? To feel physically more flexible and healthy, more confident, alive and expressive… To feel more the real YOU, remembering your inner youth that is bursting with confidence and vigour and excitement for life?
I invite you to drop into a Barefoot Boogie class and explore if this is the space for you.
Barefoot Boogie is a wellbeing practice - a celebration of life and YOU. It is a safe place of no judgment, not by others, nor by you and regulars feel like they're coming home each week to a special space.
There is very little guidance during the dance… mostly it is the energy of the group that helps us get out of the head and into the body.
You close your eyes and relax. The body starts to move on its own… no right or wrong, no pretty or ugly. All that is left for us to do is to smile and follow with a willing heart. At Barefoot Boogie, we shed all that was before and come into the present moment, exploring what comes up and allowing it to be.
Facilitator Renata (Ren@Zen) has trained for many years in a variety of conscious dance forms… Biodanza, Five Rhythms, Ecstatic Dance, Chakradance, Contact Improvisation and Trance Dance, and appreciates all the inspiration, insights and training the past 25 years have provided her.
"If you ever had a creative block, a fear of movement, are critical of your body, or just thought, 'I can't dance, I don't know how', then this is the place for you. Join us to realise that we are all dancers, a great place for the seasoned as well as the new. This is a place to fall in love with life and moving with life."
Barefoot Boogie
Move in your way to a great mix of music in a creative, connected, community space
Every Wednesday evening 7-8pm (doors open 6.45pm for warm up,)
Centre for Smart Ageing @ 4 Park, FARRANFORE, Kerry Ireland
€15 per person (drop in) / €50 - 4 class pass (Revolut payment also possible +353 087 3459418)
Bring water & blankets/cushions for savasana comfort during live Soundbath at the end.