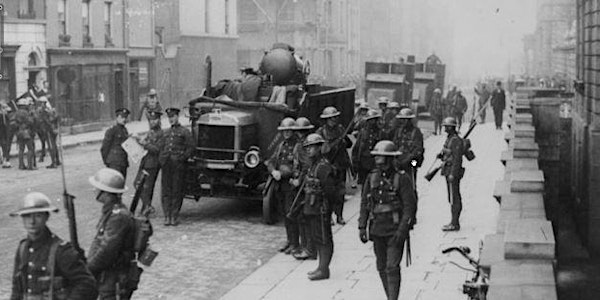 Conference: After The War: Peace, Conflict and Trauma.
Location
National Museum of Ireland - Decorative Arts & History
Benburb Street
D07 XKV4 Dublin
Ireland
This conference explores the physical and psychological effects of war and conflict, at home and abroad, on the Irish population in 1919.
About this event
This conference is focused on life in Ireland in 1919. In particular, it aims to explore the effects that the impact of war – occurring at home and abroad – had on the Irish population; both for those who fought, and those soon engulfed by conflict as Irish soldiers returned from the battlefields in Belgium and France, and the Irish War of Independence slowly began.
It aims to ask questions about how the psychological damage suffered by soldiers, as a result of the War, was perceived and how they were cared for after World War One. It also aims to explore what effect both the end of World War One, and also the War of Independence, had on businesses and employment in Ireland. Finally, the legacy of the trauma experienced by both men and women relating to both conflicts shall be examined. Featuring a broad range of speakers, this conference will explore the experiences of Irish soldiers coming home to a politically changed Ireland, the physiological and psychological trauma suffered by individuals as a result of conflict, and how this has been remembered.
Participants will include: Dr. Brendan Kelly (Professor of Psychiatry, Trinity College Dublin), Ronan McGreevy (Journalist, Author), and Dr. Louise Ryan (Professor of Sociology, University of Sheffield), and shall conclude with a short performance from ANU Productions and CoisCéim Dance Theatre.
Conference organised by: Education & Outreach Department and Brenda Malone, Curator of the Irish Wars exhibition, National Museum of Ireland – Decorative Arts & History, Collins Barracks, Benburb Street, Dublin 7.
Current Programme (subject to change)
9.30am: Registration
10am. Panel 1. Ireland after the War: Homecoming
Eve Morrison: Chair
Peter Barton. The Quiet Men: the Great War's Silent Witnesses.
Ronan McGreevy. A coward if I return? How did Irish Veterans of the First World War fare afterwards?
Fionnuala Walsh. 'The scars of war lay on their souls': women's experiences of demobilization in the aftermath of the Great War.
11.15am: Coffee
11.45am. Panel 2. Business, Employment and Loyalties
David Dickson. Chair
Wendy Williams. Seeing double: taxation and division at W&R Jacob & Co post-independence.
Jessica Handy. War, Insurrection and Guinness: Employment and loyalty in turbulent times.
Lar Joye. 'A Divided Company' – Dublin Port and the impact of the First World War, 1914-18, and the Irish Wars 1919-22.
1pm: Lunch
2pm: Panel 3 + 4. The Legacy of Trauma.
Catriona Crowe. Chair
Brendan Kelly. Trauma, shell-shock and the Richmond War Hospital, Dublin (1916-1919)
Fiona Loughnane. Bodily Trauma and the Archive: Photographs of the Loughnane Brothers.
Judith McCarthy & Dan Breen. From Behind the Walls of the Asylum: Stories of First World War survivors found in Local Authority Museum collections
3.15pm: Coffee
3.30pm:
Caitriona Clear. Chair
Linda Connolly. Sexual Violence and the Irish War of Independence: Evidence, Ethics and Trauma Histories.
Louise Ryan. Drunken Tans revisited: assessing how understandings of sexual violence during the Revolutionary years has changed in the last 20 years'
4.30pm: Performance
Louise Lowe & Owen Boss. Signposting the Past (featuring a short performance from 'Beyond these Rooms' by ANU Productions and CoisCéim Dance Theatre.)
5pm: Close
Biographies
Peter Barton is an award-winning historian, writer and film-maker, probably best known for unusual archaeological ventures on the Western Front. He was historian for the project at Fromelles in northern France that led to the recovery of the remains of 250 allied soldiers. The resulting book, The Lost Legions, was the first to juxtapose the primary source records of all belligerents, a process that provides infinitely richer historical narratives, exposes the frailty of man and the limitations of his leaders, and reveals the finest of lines between failure and success. Employing this same approach he recently wrote and presented the BBC's Somme Centenary series.
Daniel Breen was officially appointed Curator of Cork Public Museum earlier this year, having worked at the museum since 2002. Daniel graduated with a BA in History and Archaeology from UCC in 2001 and an MA in European Historical Archaeology from the University of Sheffield in the following year. In 2015, Daniel also graduated from UCC with a MA in Museum Studies. Daniel has also co-authored several books on Cork history.
Owen Boss is a Dublin based artist that utilises installation, video and collaboration in his practice. His work is generally located off-site as large-scale multi-room installations. In 2009 he established ANU alongside theatre maker Louise Lowe. ANU is committed to an interdisciplinary approach to performance and installation that cross-pollinates visual art, theatre and dance. Recent works include Beyond These Rooms at National Museum of Ireland, Collins barracks and Tate Liverpool, Intersection at the Lab Gallery, Dublin, Faultline at Dublin Theatre Festival, Scrapefoot at the Ark, Dublin, The Anvil at Manchester International Festival.
Caitriona Clear lectures in modern Irish and European social, economic and political history at National University of Ireland, Galway. She has published on women in the nineteenth and twentieth centuries, poverty and destitution, religion, social life generally, twentieth-century women's magazines. Her most recent book is Women's Voices: women's magazines in Ireland in the 1950s and 60s (Bloomsbury Academic 2016), and she is also a contributor to the Cambridge History of Ireland (2018). Her most recent research interest is popular novelists of the 1930s, 40s and 50s.
Linda Connolly is Professor of Sociology and Director, Maynooth University Social Sciences Institute, Maynooth University. She has published a number of books and articles including on Irish feminism and gender and violence. Her most recent publication is "Sexual Violence and the Irish Revolution: An inconvenient truth?" in History Ireland (November-December 2019) and "Towards an understanding of the violence women experienced in the Irish Revolution" (Maynooth University Social Sciences Institute, Working Paper Series, January 2019).
Caitriona Crowe is former Head of Special Projects at the National Archives of Ireland. She was Manager of the Census Online Project, which placed the Irish 1901 and 1911 censuses online free to access. She is editor of Dublin 1911, published by the Royal Irish Academy in late 2011. She presented the RTE documentaries, Ireland before the Rising, shown in February 2016, and Life After the Rising, shown in January 1919. She is Curator of the First Thought strand of the Galway International Arts Festival. She is a member of the Royal Irish Academy.
David Dickson has published widely on Irish social, economic and urban history, and is author of Dublin: The making of a capital city (London & Cambridge, MA, 2014) and of Old world colony: Cork and south Munster 1630-1830 (Cork & Madison, 2005). He is currently completing a study of the development of Irish cities in the long eighteenth century. He is Emeritus Professor of Modern History, Trinity College Dublin, and a Member of the Royal Irish Academy.
Jessica Handy joined the Guinness Archive in October 2017, having previously spent several years as Corporate Archivist at Unilever Archives in the model village of Port Sunlight in the UK. At Unilever, Jessica developed an interest in industrial philanthropy in the Victorian era and the history of employee welfare. Jessica holds a BA in History from Trinity College Dublin and an MA in Archives and Records Management from University College Dublin. She is also an Occasional Lecturer on the MA in Archives and Records Management at UCD.
Lar Joye is Port Heritage Director at Dublin Port. Previously he curated the award-winning Soldiers & Chiefs exhibition at Collins Barracks, described as a museum within a museum. He played a key role in the Decade of Commemorations 2012-2018 involved in a variety of projects including the 1913 Lockout: Impact & Aftermath the WWI exhibition Recovered Voices 1914-1916 & represented the National Museum on Irish Battlefield Commission and on the Moore Street and GPO Witness History projects. More recently he has partnered with the theatre company Anu Productions on the plays Pals- the Irish at Gallipoli, Sunder and These Rooms and is a member of the Irish Film Institutes Newsreels project.
Brendan Kelly is Professor of Psychiatry at Trinity College Dublin and Consultant Psychiatrist at Tallaght University Hospital. In addition to his medical degree, he holds masters degrees in epidemiology (MSc), healthcare management (MA) and Buddhist studies (MA); and doctorates in medicine (MD), history (PhD), governance (DGov) and law (PhD). He has authored and co-authored over 250 publications in peer-reviewed journals, over 500 non-peer-reviewed publications, and 11 books, including 'Hearing Voices: The History of Psychiatry in Ireland' (2016) and 'The Doctor Who Sat For A Year' (2019). He is Editor-in-Chief of the International Journal of Law and Psychiatry.
Fiona Loughnane is a lecturer in the National College of Art and Design (School of Visual Culture) and a PhD candidate in Maynooth University (Dept. of English). Her PhD investigates the photographic cultures of Irish Catholic Missions to Africa. Recent publications include an article in Review of Irish Studies in Europe 2(2) and a book chapter in Women and Photography in Africa (Bloomsbury, forthcoming 2020). She is a member of the research collective, Photography/Archives/Ireland, which has organised a series of symposia exploring photographic theory and practice from both historic and contemporary perspectives see: https://photographyarchivesireland.wordpress.com/.
Louise Lowe co-founding ANU in 2009, and has directed all of the company's multi-award winning work to date, including: Faultline (Gate Theatre co-production for Dublin Theatre Festival), The Anvil (Manchester International Festival), The Lost O'Casey (Abbey Theatre, Dublin Theatre Festival – winner of 3 Irish Times Theatre Awards, including best new play), Hentown (Dublin City Council/Winner of the Irish Times Theatre Award), These Rooms in collaboration with CoisCeim for London International Festival of Theatre, NOW1418 and Dublin Theatre Festival, PALS in collaboration with the National Museum of Ireland, and the Multi Award Winning Monto Cycle encompassing: Laundry, The Boys of Foley Street and World End's Lane.
Judith McCarthy has been the Curator of Donegal County Museum since 1994. Over the last 20 years Judith has led the Museum's work to commemorate the men and women from Donegal who fought and died in the First World War. The Museum recently published a revised and updated copy of the County Donegal Book of Honour, which lists all those from Donegal who died in the War. Judith graduated with a BA (Hons) in Ancient History/Archaeology and History from Trinity College, Dublin and subsequently completed a Postgraduate Diploma in Arts Administration in UCD.
Ronan McGreevy is an Irish Times journalist and videographer. He is the author of Wherever the Firing Line Extends: Ireland and the Western Front. In 2018 he was made a Chevalier de l'ordre des Arts et des Lettres by the French Government for his work on remembrance of the First World War. He was the editor of Centenary, the official State book on the Easter Rising commemorations and has edited three other books based on the archives of The Irish Times: Was it for This: Reflections on the Easter Rising, 'Twas Better to Die: The Irish Times and Gallipoli 1915-2015 and The Mad Guns: Reflections on the Battle of the Somme 1916-2016.He is the presenter of the full-length documentary United Ireland: How Nationalists and Unionists Fought Together in Flanders.
Eve Morrison is a twentieth century Irish historian specialising in the Independence struggle and Civil War period (1913-1923), including the social and cultural memory of those events. Her research also engages with various theoretical concerns and scholarship relating to Irish history, memory studies and oral history. She completed both her BA and PhD at Trinity College Dublin. Both her doctoral studies at T.C.D. and postdoctoral fellowship (University College Dublin) were funded by the Irish Research Council. In October 2018, she was appointed as the Canon Murray Fellow in Irish History at the University of Oxford (St. Catherine's College). She is currently writing two books.
Louise Ryan is Professor of Sociology at the University of Sheffield. Originally from Cork and a graduate of UCC, she has published widely on suffrage and feminism in Ireland, on women and nationalism and more recently on migration. Her books include: Winning the Vote for Women: the Irish Citizen Newspaper and the suffrage movement in Ireland (Four Courts Press, 2018). In 2019 her edited collection (with Margaret Ward) Women and Nationalism, will be reissued by Irish Academic Press.
Fionnuala Walsh is a lecturer in modern Irish history in UCD. She completed her PhD in Trinity College Dublin under the supervision of the late David Fitzpatrick. Subsequently she undertook an Irish Research Council Postdoctoral Fellowship in Trinity before moving to UCD. She is completing a book on the experience of women in Ireland during the First World War, for publication with Cambridge University Press. She is the membership secretary of the Women's History Association of Ireland.
Wendy Williams is a Design Historian with a particular interest in print and packaging history. She was recently commissioned by Dublin City Council to research and curate the exhibition 'Jacob's Biscuit Factory, Dublin: An Assorted History' at the Dublin City Archives. Other work on W&R Jacob & Co includes the essay 'Outward Facing: W&R Jacob & Co biscuit labels, 1900–1939' in the Journal of Historic Research in Marketing. She is also a graphic designer specialising in communication and display design for museums. In that capacity she has spent many years making a show of everything from neolithic stone axes to Patrick Pearse's teacup.