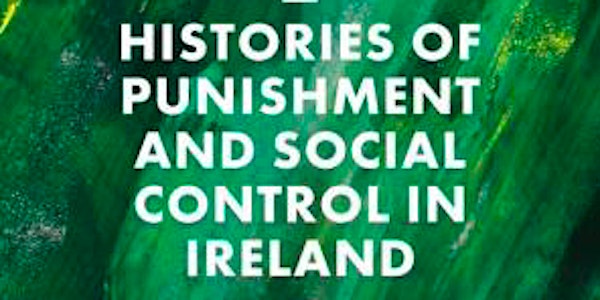 Histories of Punishment & Social Control in Ireland
How can we best understand Ireland's penal history and its legacies for today?
When and where
Location
MoLI – Museum of Literature Ireland 86 Saint Stephen's Green D02 XY43 Dublin Ireland
About this event
What regimes made up Ireland's penal system in the twentieth century? How have these changed? How have the legacies of these penal practices shaped Ireland's social order today?
While discussing these questions, this event will mark the publication of The Histories of Punishment and Social Control: Perspectives from a periphery. This edited collection shows in rich detail the trends and debates that have surround patterns of punishment in Ireland since the formation of the State in 1922. By being about twentieth century Irish penal history, the volume foregrounds often absent perspectives in criminology, sociology and punishment, such as gender, postcoloniality, religion, rurality, and penality beyond the criminal justice system. This is more than a collection of Irish criminology, therefore; the social, historical and cultural analysis of Irish penal history is undertaken as a small contribution towards decolonising criminology.
Programme
11.-11.15
Welcome
Welcome from the Editors: Louise Brangan, Lynsey Black, Deirdre Healy
11.15-12.15
1. Why history matters
With contemporary problems so pressing, why should we avert our gaze from the present and look to the past? And why might that matter for studies of punishment in particular?
Chair: Mark Coen
Discussants:
Maeve O'Rourke
Lynsey Black
Catherine Cox
- Break
12.30-1.30
2. Rethinking punishment and society from an Irish perspective
The concepts and concerns that dominate punishment and society studies may appear universal and abstract, but they usually reflect a very discrete set of penal problems in the US and UK at the end of the twentieth century. What might this field of study look like if it had been theorised from an Irish perspective?
Chair: Matt Bowden
Discussants:
Ian O'Donnell
Eoin O'Sullivan
Mary Rogan
- Lunch
2.15-3.15
3. Mainstream ideas and marginalised voices
In this roundtable session, the contributors will reflect on how their research of Irish punishment and injustice challenges conventional thinking. We will also discuss the importance of illuminating those voices and experiences that are usually overlooked, sided lined and marginalised.
Chair: Nicola Carr
Discussants:
Cormac Behan
Katherine O'Donnell
Christina Quinlan
3.20-4.00
Book Launch - Histories of Punishment and Social Control: Perspectives from a periphery