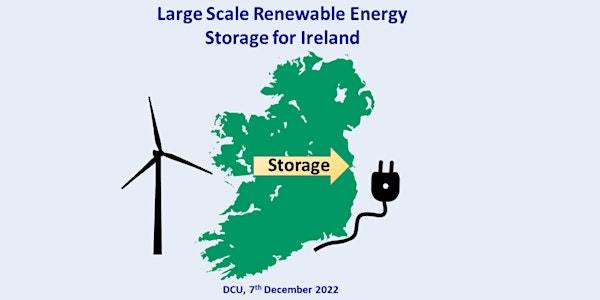 Large Scale Renewable Energy Storage for Ireland
As the energy system and industry decarbonise, there will be huge demand for renewable electricity even when the wind or sun are not present
When and where
Location
Dublin City University Room SA106 ( Tea/ Coffee /Sandwiches at 1.15pm ) Collins Avenue Extension Dublin 9 Ireland
About this event
The installation of renewable energy harvesting infrastructure such as wind-turbines and solar panels will not, by itself, be sufficient to facilitate the transition to a predominantly non-fossil fuel based economy. To cover weather dependent periods of inadequate generation, it will be essential to couple wind and solar harvesting with large-scale energy storage solutions. Technical improvements, large strategic investment, and a favourable policy and regulatory environment are necessary to bring this vision to fruition.
This afternoon meeting will consist of two sequential sessions. In the first, a number of speakers from academia and research will detail the current status of a range of hydrogen and battery related energy storage technologies, and will explore the prospects and challenges for the large scale deployment of these approaches. The second session will comprise of a panel discussion on energy storage amongst invited valued contributors from the industrial, state, and policy sectors.
Hosted by Host of Event: School of Chemical Sciences, DCU (Mary Pryce, Michael Brandon, James Carton)
Type of event Open Round Table Meeting
Location :SA106
Tea / Coffee /Sandwiches - 1.15pm
Schedule, sponsors featured speakers / guests
Sponsor – Sustainable Energy Authority of Ireland (SEAI)
2pm Technical Presentations: 10 minutes each & questions. Session chairperson: Dr Mary Pryce, School of Chemical Sciences, DCU
Energy Storage and Advances in Battery Technology – Dr Hugh Geaney UL
Hydrogen Production & the need for Hydrogen – Dr Rob O'Connor DCU
Hydrogen storage & transport - LOH Carriers for Export – Dr Michael Brandon DCU
Hydrogen - Large Scale Geological Seasonal Hydrogen Storage in Ireland - Dr Ali Saberi Meher HyLIGHT DCU
3pm Panel Discussion (30 minutes), Questions to Panel (SEAI ,Net Zero Energy, EIH2 ,UL) & from the Floor to the panel.
Session chairperson: Dr James Carton, School of Mechanical & Manufacturing Engineering, DCU
An invited panel drawn from industrial and policy-centred stakeholders will give their perspectives on the challenges and opportunities for hydrogen, and other energy storage technologies, as Ireland continues on its energy transition towards meeting its 2050 climate obligations.