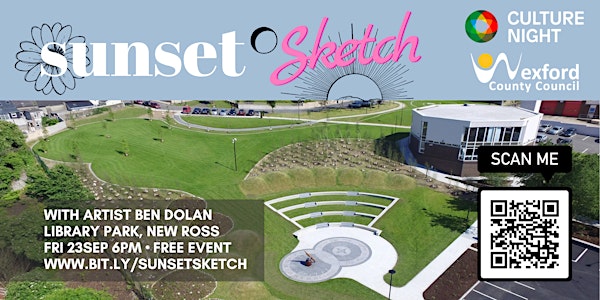 Sunset Sketch
Sunset Sketch is a FREE guided sketching event in New Ross Library Park for Culture Night 2022.
When and where
Location
Library Park, New Ross Library Park Barrack Lane New Ross Ireland
About this event
This is a FREE guided sketching event in New Ross Library Park for Culture Night 2022. Participants are invited to join artist Ben Dolan for a walk in the park looking at the possibilities for sketching and drawing. The session will be led by Ben, who will explore some techniques for scene selection, composition, use of materials and mark making. Materials are provided, just bring yourself and suitable clothing!
This session intends to introduce people to the pleasure of drawing as an activity and provide them with some simple techniques to get more from their sketching. They will be guided by the artist in observing, analysing and visually translating the scenes around them by using materials provided (pencils, charcoal, chalk, pastel, and pen/wash). The Park offers great scope for drawing, from the planted and wild areas, the flora and fauna, to the landscapes and architecture both within and around the park.
Artistic support and encouragement will be given at all times so that participants feel able to try sketching at their own pace and while demonstration of techniques will take place, this is primarily an enjoyable, participatory event.
The session will last approx. 2 hours including the performance of an original sound piece in the auditorium area of the Park. The work by Ben Dolan is an audio sketch of the area around Barrack Lane.
We are encouraging people of all levels or artistry or none to come and enjoy the experience of drawing in an accessible place at no cost in a central location that reflects the history and present culture of the town of New Ross.