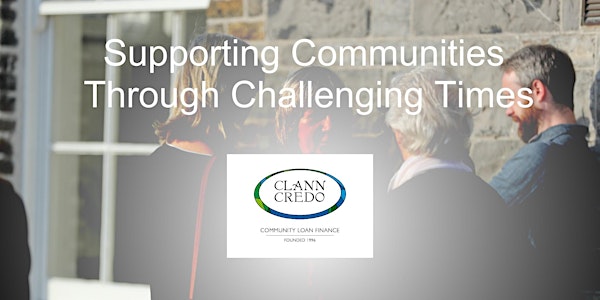 Supporting Community Organisations Through Challenging Times
Supporting Community Organisations Through Challenging Times
About this event
Clann Credo customers and stakeholders are invited to attend an online meeting on Tuesday 9th of June, 7.30 pm – 8:30pm. We want you to know that we're here to listen, talk and explore ways forward. We won't have all the answers on the night, but we'll try to find ways to get them.
We know these are difficult times for many community groups and organisations. Covid-19 has created huge challenges for community organisations and sports clubs. Many have had to close, and the impact of those closures is far reaching both socially and economically.
Community groups working with socially disadvantaged and vulnerable people are trying to maintain or increase supports while adhering to social distancing guidelines and this is presenting new difficulties.
This meeting will explore the challenges your organisation is facing and see how Clann Credo might support you.
It will also be a great opportunity to meet other community organisations and sports clubs from around the country and share ideas for getting through this difficult time.
This meeting is solely for Clann Credo customers and stakeholders. Our last meeting was over subscribed, so early booking is advised.
The Clann Credo Team look forward to meeting you online.