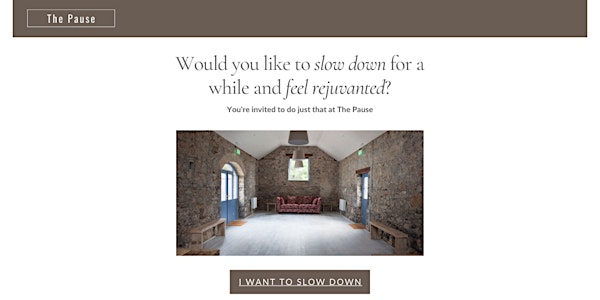 'The Pause' -Half-Day Retreat for Women
The Pause is your invitation to slow down ​and invest some time in yourself with a few hours out of your busy days.
By Jacqueline Kelly - Our Brave Hearts
Date and time
Sun, 11 Dec 2022 10:00 - 13:00 GMT
Location
Hotwell House Ballinakill Enfield Ireland
Refund Policy
Contact the organiser to request a refund.
About this event
The Pause is your invitation to slow down ​and invest some time into gently exploring ​the reality that how we are living is ​unsustainable. Our lives our bypassing us at ​such a pace that we cannot possibly fully ​experience all of it. This is why we created ​this space, this pause in our lives. Our ​intention for the event is to gather in ​community and allow ourselves a glimpse ​into how important it is for us to take a ​pause.
We will relish in the feeling of empowerment ​that comes with acknowledging that we can ​change how we are living, so that we are no ​longer at the mercy of society's conditioning ​that tells us our value is based on how busy ​we are. There is such joy to be found when in ​the company of others who are as drawn to ​slowing down for a while as you are.
As you arrive, you will be welcomed into the ​circle by Trish and Jacqueline. Trish will lead us in ​a heart opening cacao ceremony. Cacao is a ​plant medicine that has been used ceremonially ​for thousands of years. We will join together to ​drink cacao and when this is done with intention ​it can have beautiful spiritual effects. It can act as ​a heart opener, bringing us back to a place of ​balance. It can help connect us to our intuition ​and increase creativity and focus.
Having taken some time to drink our cacao there ​will be space to allow us to experience some real ​stillness and presence.You may want to just lie ​comfy and cosy or journal. The time is yours. ​Following the cacao ceremony we will begin ​some gentle movement. This will be based on the ​principles of pilates and will be very much ​focused on the mind body connection and ​moving with our breath.
After our gentle movement, we will ease back ​into circle and Jacqueline will open up the ​conversation as to why so many of us are feeling ​the presence of urgency in our lives. The pace at ​which we are trying to live is slowly and surely ​eating away at our joy and happiness. Each of us ​feels so alone in our busyness, not quite sure ​how we ended up in such overwhelm and ​feelings of never quite getting on top of things.
We are tired and we are busy.
Busy living a life that no longer feels like our own ​but one that is being dictated by the opinions ​and judgements of a world that seems to be ​speeding up. Everywhere we turn we are ​encouraged to 'be better', to 'work harder' and ​'get up earlier'. In addition to all of this are the ​deeply embedded beliefs we have all grown up ​with in regards to what makes a good woman, a ​good wife and partner, a good mother. We run ​ourselves into the ground trying to look after our ​friends and our family.
Sometimes all it takes ​is a realisation that ​you don't want to feel so ​busy all the time
This is why Trish and Jacqueline have created ​this moment in time, this opportunity to press ​pause on all that feels frantic in your life right ​now. They wish for you to prioritise yourself for ​a few hours, to press pause on your busy, busy ​life so that you may create an opportunity to ​breathe deeply and reconnect with that sense ​of ease and peace that exists deep within you.
You don't have to walk ​this path alone...
You are warmly invited to come gather with us ​for The Pause on Sunday, 11th December, ​10am-1pm.
Tickets are €45