The annual conference of the School of Celtic Studies. Taking place this year at the Hampton Hotel, Donnybrook, Dublin 4.
About this event
Conference talks will take place all day Friday, and on Saturday morning. The Statutory Public Lecture will take place on Friday evening at the same venue. Due to capacity restrictions you must pre-book your free ticket for the days you will be attending. Proof of Covid vaccination/recovery will be required for entry to the venue.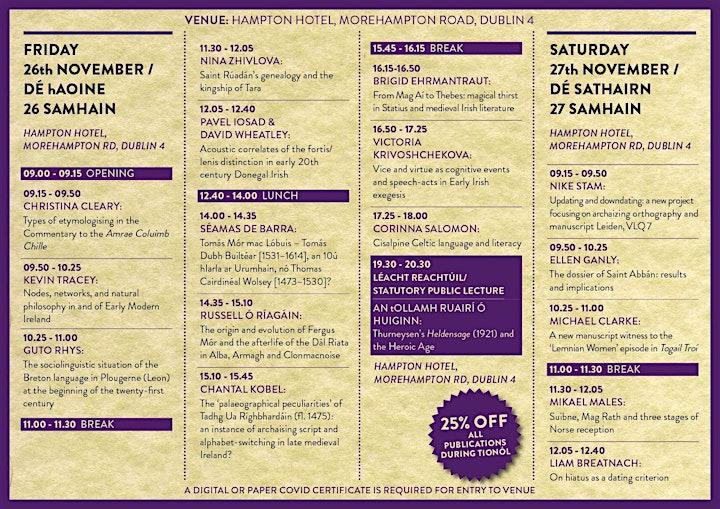 The Dublin Institute for Advanced Studies (DIAS) conducts advanced studies exploring big questions of the 21st century and beyond. Its research gains insights into Celtic society and its legacy; progresses our understanding of our island, our planet and the universe; and deciphers the underpinning mathematical principles of nature.
The Institute leads Ireland's participation in a number of international and global initiatives that focus on big unanswered questions for mankind.
When it was founded in 1940, DIAS was the world's second-only institute for advanced studies – and the first such institute in Europe. For 80 years, it has pushed the boundaries of discovery and, today, it is a globally-embedded institution that attracts high-calibre researchers from all over the world in its core disciplines of Celtic Studies, Theoretical Physics, Astrophysics and Geophysics. DIAS Dunsink Observatory is a designated European site of historical significance for physics.