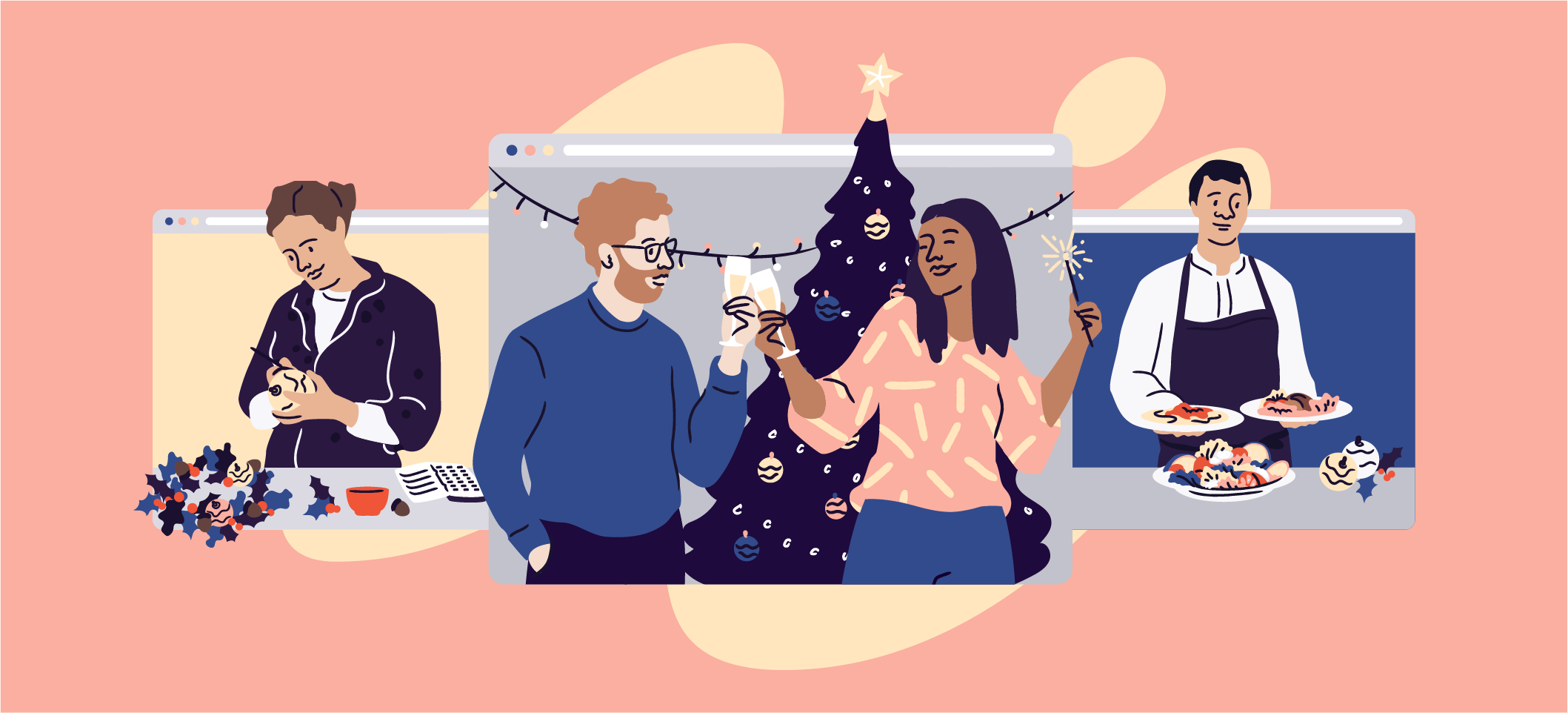 How to Host a Cheers-Worthy Holiday Cocktail Class
The holiday season is often packed with social occasions – be it office parties, Christmas, or New Year's Eve celebrations. While hors d'oeuvres and full meals might be optional for some of these occasions, festive holiday cocktails will definitely be served at any party worth the name. This means there are likely to be lots of party hosts who are eager to explore holiday cocktail ideas that will delight their guests.
Holiday cocktail-making classes or cocktail-making workshops are the perfect solution – they give you a chance to feature favourite traditional holiday cocktails alongside the best winter holiday drinks that are trending this year. But with so many events already crowding a busy time of year, how can you create a holiday cocktail class that stands out and attracts the big audience you know is out there?
First of all, make sure your class is available to as many people as possible. Add a streaming element to make it a virtual cocktail class, and you'll open your doors to a global online audience. Because it's easy to follow along and make beverages at home, an online cocktail class works well in a hybrid event format. That alone can help increase ticket sales. For a more competitive consumer base, it's worth looking into how to host a cocktail competition. Another smart idea is to include non-alcoholic drinks as well as classic aperitifs. With a growing population of teetotalers around the world, why decrease your potential audience? After all, eggnog can be made with or without brandy, and it's delicious either way!
To make sure your class has the best and brightest festive cocktail ideas, we spoke to top mixologist workshop creators to find out what you need to know to make your holiday class just as special as the season it celebrates. Let's check out what advice they had for you.
1. Get the holiday cocktail class word out early
In a crowded social calendar, the early word gets the worm, so to speak. The sooner you can let people know about your event, the greater the chance they won't have other commitments already. "We started marketing our holiday cocktail classes earlier than usual," says Laura Johnson, the founder and CEO of You & Yours Distilling Co. Wait too long, and your potential ticket buyers might already be committed to a performance of "The Nutcracker Suite," a night of carolling, or a showing of the Christmas movie classic, "Die Hard."
Eventbrite Boost offers event creators a full array of promotion and marketing tools that makes spreading the word about your event easy, especially across social media like Facebook and Instagram. Not only that, with the data and metrics Eventbrite Boost can provide, you'll also be able to study exactly what advertising worked, and where your campaigns can improve.
For Johnson, early marketing efforts weren't just about letting people know of the event before their competition did the same. Instead, by getting advertising and promotion efforts underway early, Johnson notes, "guests could purchase multiple tickets for a fun group holiday outing." A holiday-themed class that's entertaining and informative can work well as an office team-building experience or a family-reunion occasion, so make sure to give team leaders and Uncle Henry time to get organised!
Marketing early also helped Johnson sell tickets in another way. She found that it gave enough opportunity for people to "purchase tickets ahead of time for gifting." Remember that gifts aren't just given on Christmas morning. A holiday cocktail class can make a unique gift, and Hanukkah gift-giving often lines up earlier on the calendar than Christmas, too. Do people give Thanksgiving gifts? A lesson on Thanksgiving-themed cocktails is a good place to start.
2. Set up your holiday cocktail kit beforehand
As in many areas of life, it's best to be prepared. If you've ever watched a TV cooking lesson, you'll notice renowned chef Bobby Flay or top baker Duff Goldman always have their ingredients measured out and ready to go. The same goes for cocktails, and especially for festive cocktails that can include surprise ingredients, which you might not have at the ready.
"Portion out each item in different taster glasses," advises Tori Zamrik, marketing and event coordinator for Taft's Brewing Company. That way, "all that's left to do is mixing everything together." No one necessarily needs to see you measure out some crème de menthe, so simply set up your ingredients before your class starts, and set everything close by so it's easy to grab them when they're needed. Just be sure you've labelled your ingredients – you won't want to mistake a measure of gin for a splash of water!
Zamrik also suggests that drink recipes including several ingredients make for a better and more exciting class experience than simpler drinks. "The more that people can shake in a shaker glass, the better," she notes.
3. Make your event about more than holiday cocktail menu ideas
To make your cocktail class one that people remember, be sure it's more than a simple rundown of a recipe list. Because the holidays are so rich in colourful traditions, this can be a chance to add some festive fun that really stands out. "We're including a special holiday-themed take-home favour," says Johnson. Candy canes, tree ornaments, and even cocoa-making kits can offer a chance to place a pin in your guests' memories. And for virtual attendees, top event creators will even send favours or cocktail-making kits to their homes prior to the event.
But the holidays are, of course, about more than gift-giving. There's a long tradition of combining holiday drinks with carolling, for example. In fact, the classic Christmas carol "Here We Come A-Caroling" is about going carolling and drinking wassail – a centuries-old recipe of hot mulled cider and spices like cinnamon, ginger, and nutmeg. Including some singing in your Christmas cocktail class is a given.
No matter what Yuletide element you end up adding, the key is to go beyond just a list of ingredients to add to your base liquor. Of course, you don't want to omit the recipes themselves, but you can also do what Taft's Brewing Company's Zamrik does: "We give out recipe cards for guests to take with them so they can recreate them at home." And because Eventbrite makes it easy to email all your guests, you can even send out recipes electronically once the class is finished.
Whether it's a set of recipes or a set of candy-cane-themed garnishes, leaving your guests with a "takeaway" gives them something to remember you by. As Johnson puts it, "No holiday cocktail class would be complete without a gift."
4. The best Christmas holiday cocktails class gets everyone involved
To really make an impression on your holiday cocktail class attendees, make sure they're not simply stuck behind the bar, but invite them back and get them involved. That's the advice of Lesley Jacobs Solmonson, author of "Gin: A Global History" and "The 12 Bottle Bar."
"They need to enjoy the party, too," she reminds us. It's generally accepted that active learners retain knowledge better than passive learners, so she may have a point.
"One way to do this is to set up a DIY cocktail station where guests can customise their drink." A gin and tonic bar, for example, can "offer various choices of gin, tonic water styles, citrus, herbs, and fruits for garnishes. An Old Fashioned bar might include a few types of whiskey, various types of sugar cubes, and a selection of bitters."
As with holiday party favours, special ingredients can be purchased by and sent to virtual guests beforehand – even more reason to get your promotion efforts underway early. For online cocktail class attendees, Solmonson suggests another way to get them involved: "Assign them ingredients for them to bring." Even better, this reduces the number of items you'll need to prepare ahead of time (though, of course, it's always a good idea to bring backup ingredients!).
5. Keep your festive cocktails simple
While your Christmas cocktail class can attract those who might already know the difference between an aperitif and a digestif, you'll also attract less-informed people who may not have the background knowledge you might think of as common. You don't want to overwhelm your guests with obscure ingredients that tend to be more expensive, too.
"Asking someone to shell out $50 for rare liquors and then asking them to use a 1/4 teaspoon in a drink lacks logic," says Solmonson. "Go with classic recipes that can be easily reproduced." And if you're designing a class with several different recipes, try to include ingredients that overlap. Your guests will appreciate and remember it.
Turn your class into a cocktail-making Christmas party and holiday bash
Ultimately, people want to have fun during the holidays, and if your event makes them smile or laugh, chances are they will remember you when they're looking for their next event to go to. Add colourful decorations, turn on some seasonal music, and most importantly, put a smile on your face. The fact is, when you're having a good time, attendees will be, too.
Whether you're making Christmas holiday cocktails, experimenting with Thanksgiving cocktail ideas, or trying out mobile cocktail-making classes, planning, organising, administering, and then actually hosting it all can be a drain on your enthusiasm.
The good news is that when you put Eventbrite's tools to use, the enjoyment comes easy. Find out how Eventbrite can help plan, market, and sell tickets to your event, and put you in the holiday mood!