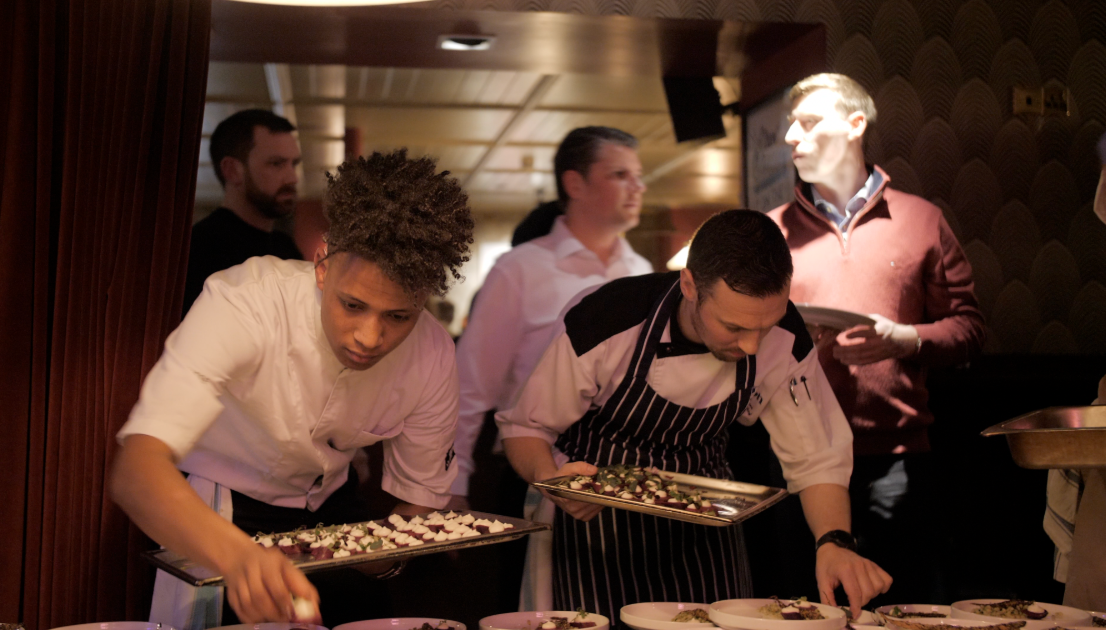 Passion to Project: How Chef Collab is Empowering Ireland's Young Chefs of the Future
Last year, the Restaurants Association of Ireland (RAI) revealed that the shortage of chefs in Ireland has reached 'crisis point', with the deficit of chefs widening by at least 3,200 annually.
There's no doubt that the industry gets a bad rap. Long hours, hostile working environments, intensely competitive – an image perpetuated by the media through sensationalised cooking shows like Gordon Ramsay's infamous 'Hell's Kitchen'. This stereotype, coupled with lack of support from the education system, is undoubtedly playing into the growing deficit in Ireland.
The RAI estimated that an extra 7,000 to 8,000 chefs would be needed to plug gaps in the sector. This is an acute shortage that cannot be ignored.
But while these figures cast a bleak light on the current state of the restaurant sector, it has also sparked a surge of creativity, support, and a desire for change amongst some of the industry's leading professionals.
One stand-out example is Chef Chad Byrne, award-winning head chef at The Brehon Killarney and founder of Chef Collab.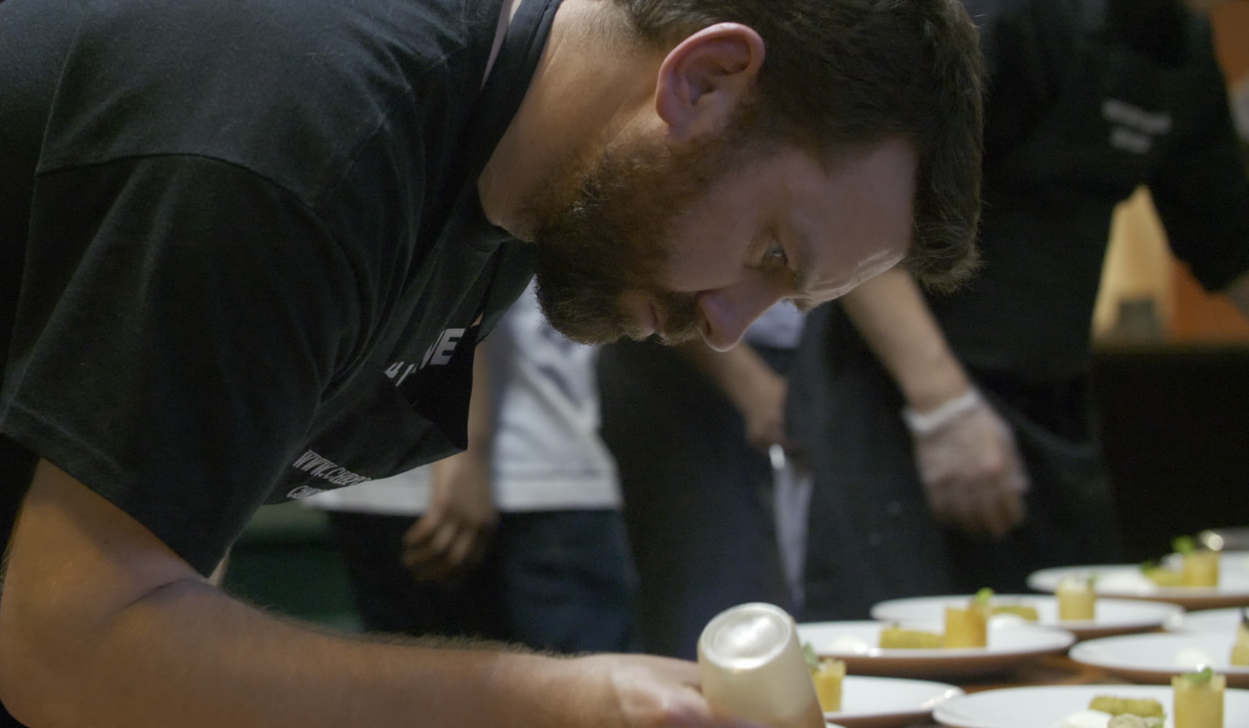 Chad Byrne founded Chef Collab with the aim of combating the chef shortage, removing the negative stigma attached to the industry, and empowering young chefs in Ireland.
We speak to Chad to learn more about how Chef Collab is inspiring apprentice chefs and promoting the positives of the industry – he explains how the idea came about quite organically:
"I did a pop-up with four local chefs in Killarney which was a sell-out and great vibes. I had two commis chefs with me and they loved it and couldn't wait to do the next one! So instead of the senior chefs cooking, I thought it would be a great idea to get the younger chefs cooking and make them the stars of the show (with a little guidance from some senior chefs). It was insane fun and was a pleasure to see these young chefs have their time in the spotlight. It also cast a good reflection on our industry. All this with great food thrown in-  we were on to a winner!"
Chad's own experience as a young chef was a major driving force behind the idea. Chad left school at 15 and worked as a kitchen porter in a Chinese restaurant. He had no clear direction of where he wanted to go. He then moved into corporate catering where a chef explained that if he wanted to make a viable career out of cheffing, he needed to get experience in the best kitchens. Chad soon began working at The Merrion Hotel in Dublin, where award-winning chef, Ed Cooney, took him under his wing.
"I  was lucky enough to have a chef take me under his wing in the Merrion hotel in Dublin and the sheer adrenaline and military precision of that kitchen had me hooked."
It was this experience that made Chad truly value the power of mentorship – an experience that he wanted to pass onto more young chefs in Ireland. And so Chef Collab was born.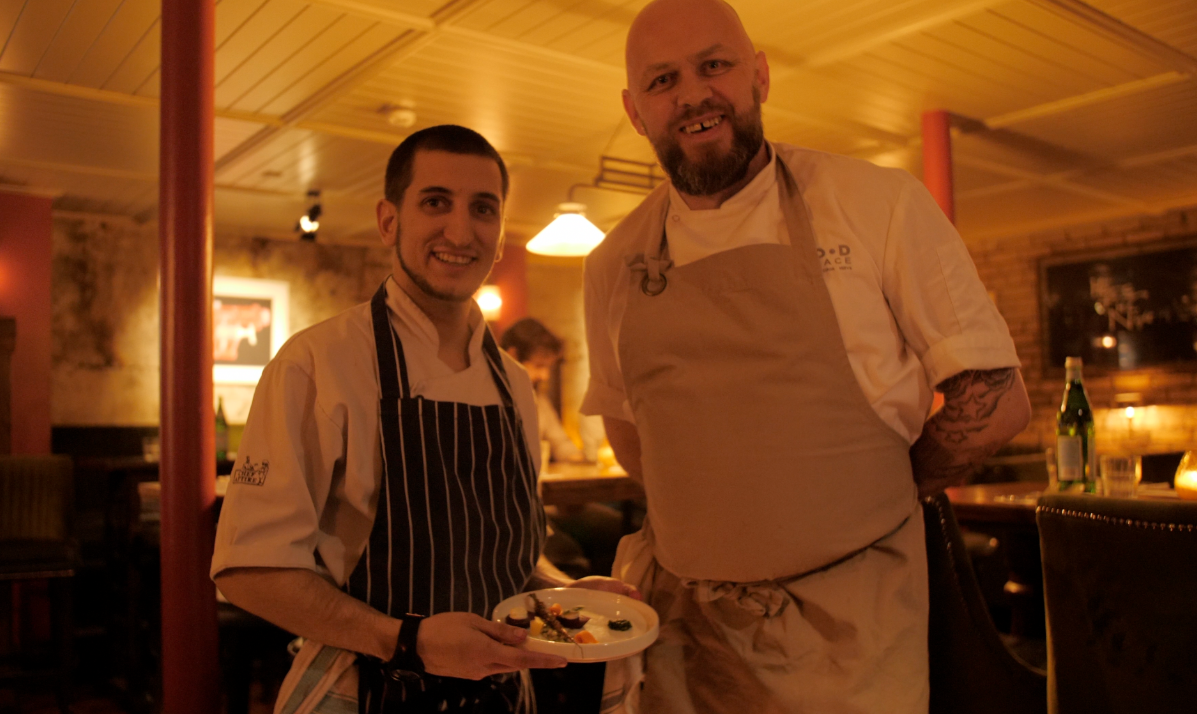 "Chef Collab is all about highlighting the talented chefs of tomorrow with the best chefs in the world today, through immersive learning, encouragement, fun and, of course, teamwork."
Chef Collab pairs up-and-coming chefs with Ireland's top chefs to create a culinary experience like no other. The ethos of the programme is simple – to give apprentice chefs of all levels the opportunity to train, cook, and thrive alongside experienced professionals in a fun and relaxed environment.
As part of the programme, the apprentice chefs spend time in their mentor's kitchens, learning new skills and working together to create a dish. Each pair then cooks and serves their creation at the Chef Collab event, resulting in a multi-course dining experience created by some of Ireland's best chefs and up-and-coming talent.
The experience demonstrates that cheffing can be a valid and motivating career path when fuelled by creativity, passion, and respect. Chad has designed the programme to show how the kitchen can be professional and fun, and bring incredible satisfaction and rewards for aspiring young chefs.
When asked what sets Chef Collab apart from other culinary events, Chad said it's all about forgetting the rules, breaking down barriers, and getting back to basics.
"We throw the rule book away  – no table-plan, Viking-style dining, one fork, knife, and spoon for the entire event, we cook in front of the guests, the chefs serve the food, and we have banging music on. It's totally interactive with no barriers between chefs and guests. A fun-filled, no frills, unbelievable experience and the feel-good factor is through the roof. I think the best way to put it is – it's a no holds barred, rock 'n' roll culinary event. It sounds crazy, but it works better than any pop-up I've been to."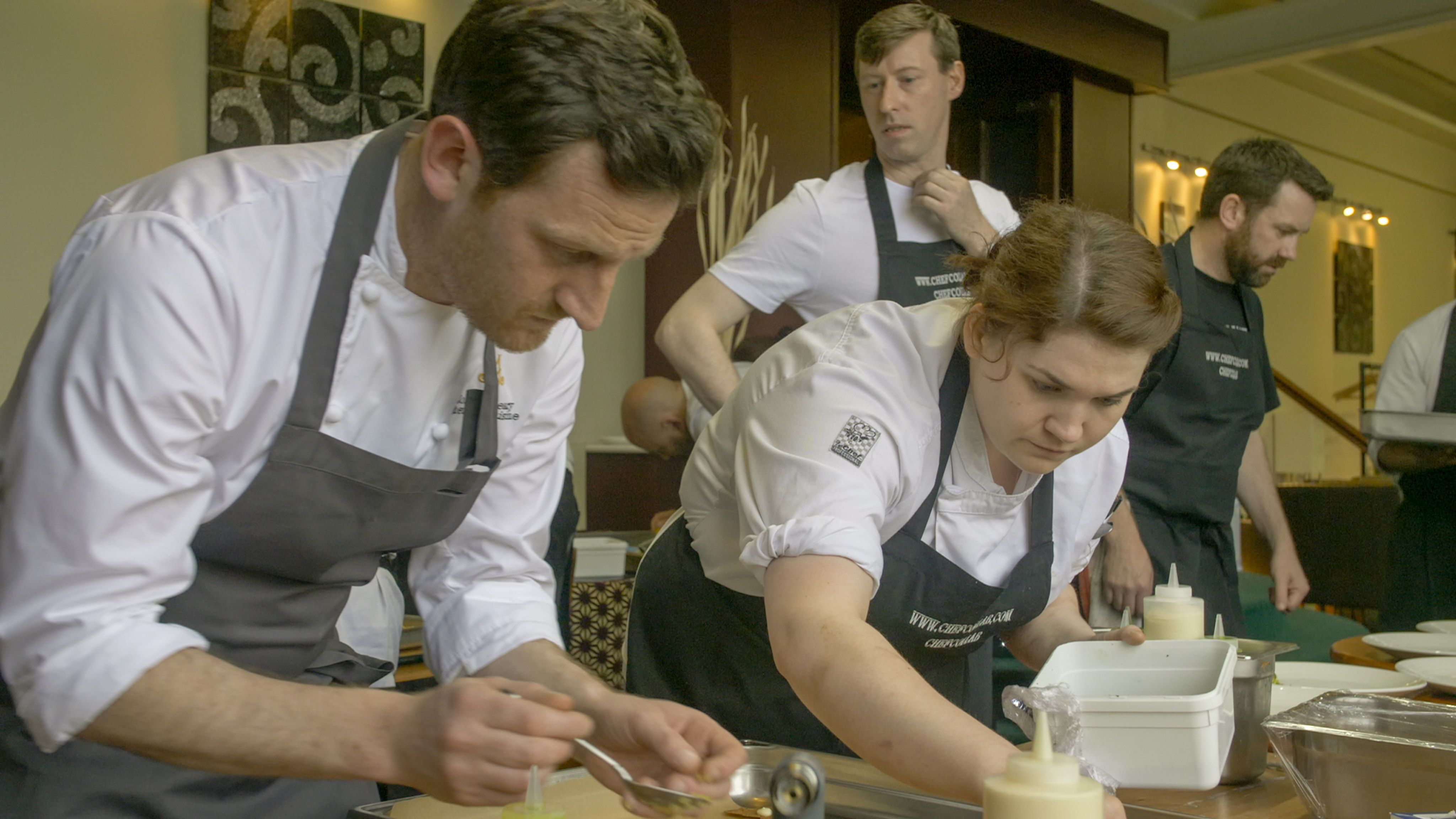 Chad shares that they have been inundated with support from restaurateurs, local suppliers, and business owners. But an important part of maintaining the ethos of the event is to work alongside partners who align with their brand and truly believe in the values of Chef Collab.
"We only work with companies who have the same mindset as what we are about in the Collab –  promoting positive work environments and a willingness to help others. The Irish Hotel Federation has been a great support. La Rousse foods have been with us from the start and have an ethos that is very much aligned with what we do at Chef Collab. They are the biggest supporter of Irish artisan producers which is key to what we do – promoting local and supporting each other."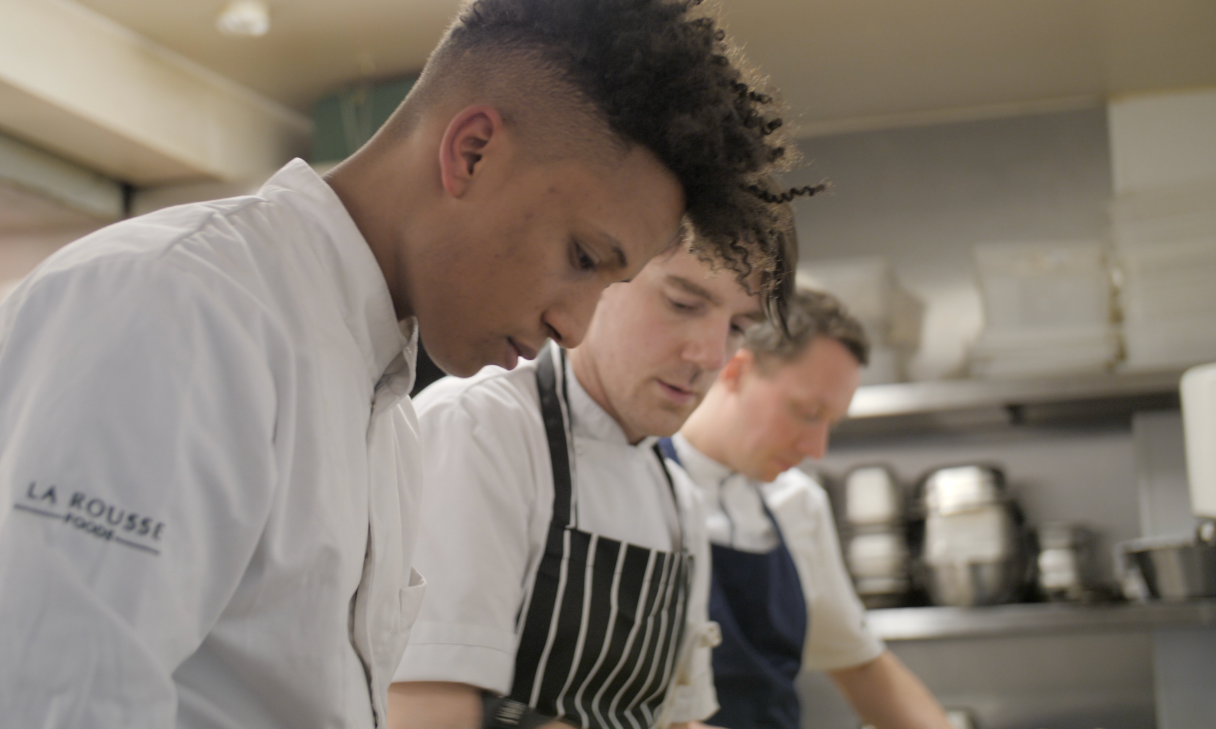 The response to the event so far is a testament to the power of an initiative like this, where compassion, creativity, and genuine goodwill can be found at its core.
"Every Collab seems to be getting more and more traction and every event has been a sell-out. In fact, our last event sold out in four hours. I think it's down to the positivity and good vibes which surround our events. We cook for the right reasons and it shows. We do it for the pure love of the craft."
Of course, the success of Chef Collab goes much deeper than selling out events.
The event has succeeded in dispelling the myth that top-class kitchens must be driven by machismo and aggression. Every sell-out event is another step towards proving that quality food can be created in a fun and relaxed environment. Another step towards challenging a deep-seated belief system that has been incredibly destructive to the industry. A huge stride towards empowering young chefs to believe in their industry again and become the future head chefs of Ireland.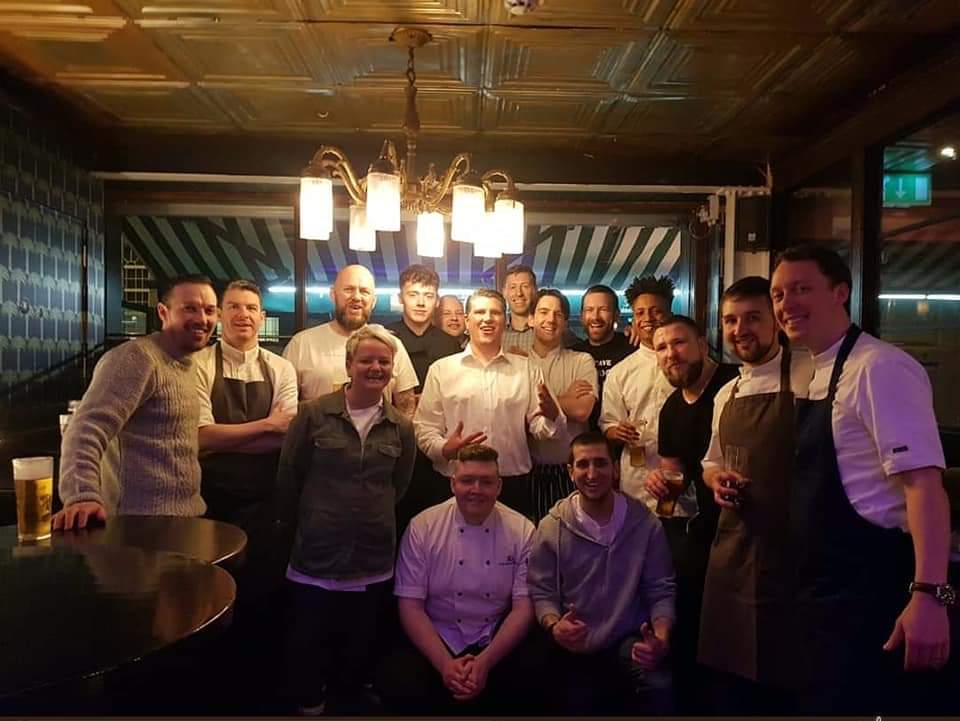 Chef Collab is an event fuelled by compassion for up-and-coming chefs, a love of the craft, and a deep desire to make a difference. Chad has stripped back all the frills and formalities that typically accompany fine dining to shine a light on the incredible talent of Ireland's top chefs of tomorrow. He is reminding us that cheffing is not about shouting, hostility, and intense competition. Great chefs are motivated by creativity, shared experiences, support for one another, and a genuine love of fantastic food.
We're excited to see what the future holds for this one!
"Next up, we have15th July in Cork, then on to Dublin, Belfast, and London. There's no stopping us or slowing us down. This is set to be one of the biggest events on the culinary calendar, with a big surprise coming near the end of the year!"
The next Chef Collab event takes place on 15th July at Olivio Italian Eatery in Cork. The line up includes chefs JP McMahon, Marguerite Keogh, Alberto Rossi, James Coffey, James Sheridan, and Pam Kelly, alongside some exceptional up-and-coming talent. Grab your tickets on Eventbrite now!
Feeling inspired? Turn your passion into a project by setting up your first (or next event) and see your ideas and ambitions come to life.