Description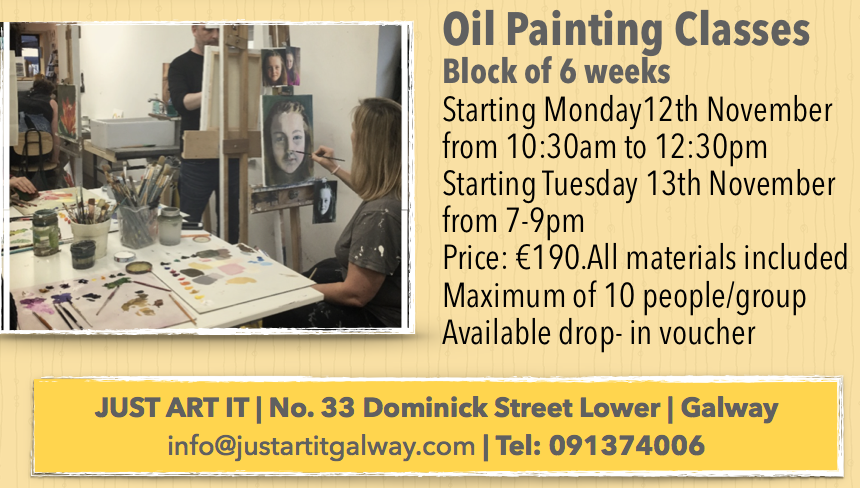 Just Art It Oil painting classes with professional artist, printmaker and art teacher Elena Santos.
Our painting classes are designed to provide you with a great creative experience. You will work on your own images or motifs and learn the fundamentals of painting at your own pace! We cater for a maximum of 10 people per group to guarantee one-to-one tutoring in a safe environment and relaxed atmosphere. All levels are welcome!
Just Art It painting classes are an on-going course running from Autumn until Summer. We offer two weekly groups of two hours duration: Monday mornings from 10:30 am to 12:30 pm or Tuesdays evenings from 7 to 9pm. We are trying to be as flexible as possible, you can now enrol for the full Autumn term of 15 weeks until Christmas or you can attend our classes in blocks of 6 weeks.

Blocks of 6 Weeks: Starting on 12th November until 17th December.
Price: €160 bringing your own materials or you can add €30 to have all materials included. (max 1 canvas included per block).

We are also offering a special drop-in voucher of 6 classes to spend from 17th September until 17th December. This drop-in voucher can be use to swap mornings and evenings depending on the availability. The price per voucher is €190 with all materials included (max 1 canvas included per voucher) It can be purchased only at our premises in Dominick Street.
€50 non-refundable deposit is required to ensure your place in any of the courses offered at Just Art It.
**Please Note: Online Booking Fee of €4.60 charged by Eventbrite. You can also book in person, without this extra charge, by calling into Just Art It.
For further information email info@justartitgalway.com or call 091 374006