About this Event
Meandering Monks & Medieval Miles & other tales from Ancient Upper Ossory
Details: Day 1: Saturday August 24th
11am: Assembly at Aylward's Rural Heritage Museum
The Full Irish "Bulfin" Breakfast!
Narration from William Bulfin's book; "Rambles in Eirinn"
Cycle to Aghaboe Abbey - via Coleman's Road and Shanahoe.
1pm: Aghaboe Abbey - A Celebration of our Monks - Saint's Fergal, Canice & Fintan
Monastic Trials and Tribulations - Heritage Talk
St Canice: Telling the Story of the Two Coffins - Pageant/Folklore
St. Fergal: Narration from William Bulfin's book - Rambles in Eirinn & The Austrian connection.
St Fintan: Sample a Monk's Austerity Meal.
"In Days of Old" An Irish "Pattern" Day. Rustic Merriment with Music, Song & Dance.
A Monk's Indulgence - Making Merry with Traditional Mead.
Food and refreshments served.
St Canice Commemoration Trail - A Pilgrim Path
3pm: Clough: The Land League Priest - local history/storytelling.
Narration from William Bulfin's book - "Rambles in Eirinn"
4.30pm: Grantstown Lake: An Authentic Crannóg & The Lost Village
Grantstown Tower House - Heritage Talk & Walk.
Music - light refreshments.
6.30 pm: Bob's Museum Bar Durrow - BBQ, Music & The Ancient Pastime of Skittles
Day 1 Trail - 35K approx
Overnight in Durrow - Camping facilities at The Harps GAA Centre (courtesy of Durrow Scouts & Harps GAA
Option to upgrade to local B&B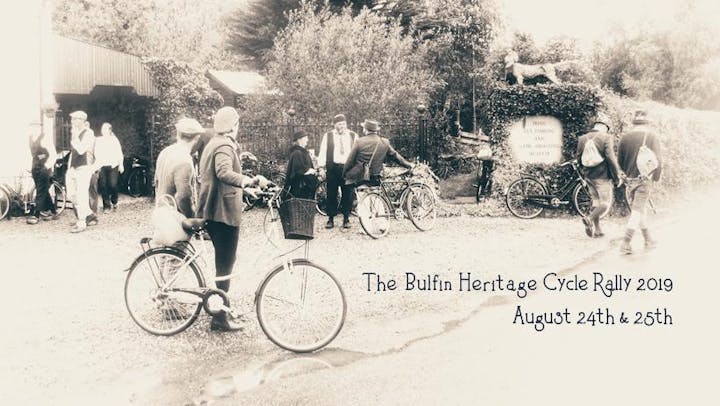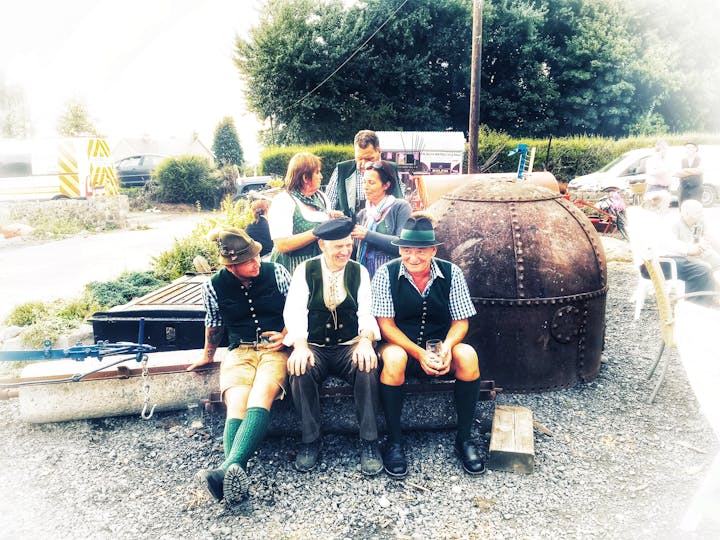 Details: Day 2: Sunday August 25th
Durrow: 9.30am: A Full Irish Bulfin Breakfast at The Harps GAA Centre
10.30am: Assembly. Heritage Talk: Durrow in County Kilkenny.
11am: Durrow to Kilkenny:
St Canice Commemoration Trail - A Pilgrim Path
Cycle to St Canice's Cathedral, Kilkenny, via An Béalach Mór Taisteál - ("Up the Hill" transport available)
Lisdowney - Heritage talk.
Freshford -St Lachtain - Heritage talk with Ned Kennedy
A Conker Match - An Exhibition of an Ancient Pastime.
Threecastles - Talbot's Inch
2pm: Meeting with our Kilkenny Hosts - The Flying Column (High Nelly Bicycle Club) Heritage Cycle around Kilkenny -Including: Tour & Heritage talk at St Canice's Cathedral, Kilkenny Castle, The Black Abbey & The Kilkenny Medieval Mile Heritage Trail.
4pm: Celebration Meal and Music at Home Rule Club Kilkenny
Day 2 Trail - 33K approx
7pm: Vintage Bus to Durrow (including bike transport)
8pm: Bulfin Event 2019 "Final Handshakes" Music & Craic at Bob's Museum Bar, Durrow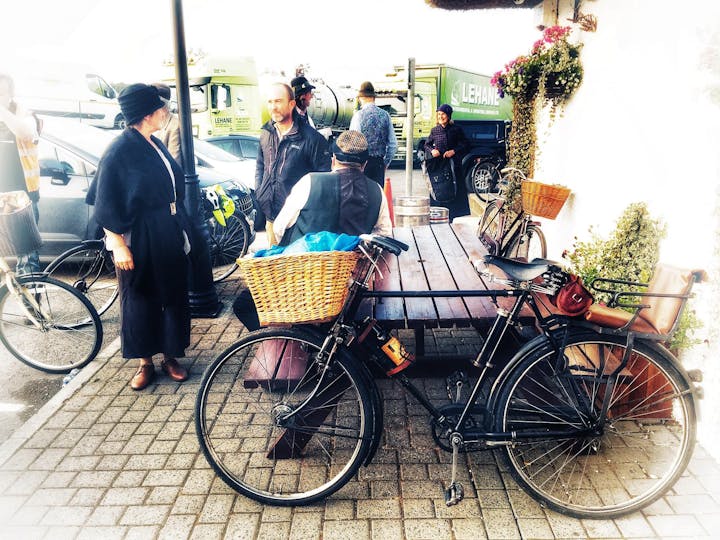 Contact:
Hugh Sheppard - 086 8694691
Noel Mooney - 087 9517311
Matt Doyle - 086 0537356
Sean Conroy - 087 1775651
E-mail: durrow.doings@gmail.com
Postal Applications to: Margaret Alyward, Patrick St., Durrow, Co. Laois, Ireland.
Booking Fee Includes the following
All meals as advertised
Pageant participation
Heritage Site visits
Stamped event "passport"
Tents and camping facilities provided
Commemorative medal
Bus & bike transfer - Kilkenny to Durrow and full back-up services
In an effort to uphold the ethos and authenticity of the event, only "High Nelly" bicycles or their genuine replicas will be permitted. Cyclists are encouraged to wear suitable period costume. It is the responsibility of individual cyclists to ensure the safety and roadworthiness of their bicycle prior to involvement in this event.
See www.BulfinHeritageCycle.com for more information, and details of our past events.
Who Was William Bulfin?
William Bulfin was a journalist, travel writer and proud Irish Nationalist, who was born in Derrinlough, Co Offaly in 1864. Having returned from Argentina in 1902, where he worked on the pampas amongst the native gaucho or cowboy tribe, he set off on a journey that took him through the highways and byways of Ireland on a steel framed bicycle made by Pierce of Wexford. "Rambles in Eirinn" is an insightful book written by William Bulfin about his cycling experience.
The travelogue was published in 1907 and proved to be a resounding success, extending to a fourth edition, published in 1915. Taking our inspiration from William's achievements; The Bulfin Heritage Cycle Rally 2019, is the fifth in a series of Heritage adventures promoted by local not-for-profit group "Irish Country Roads & Culture Trails"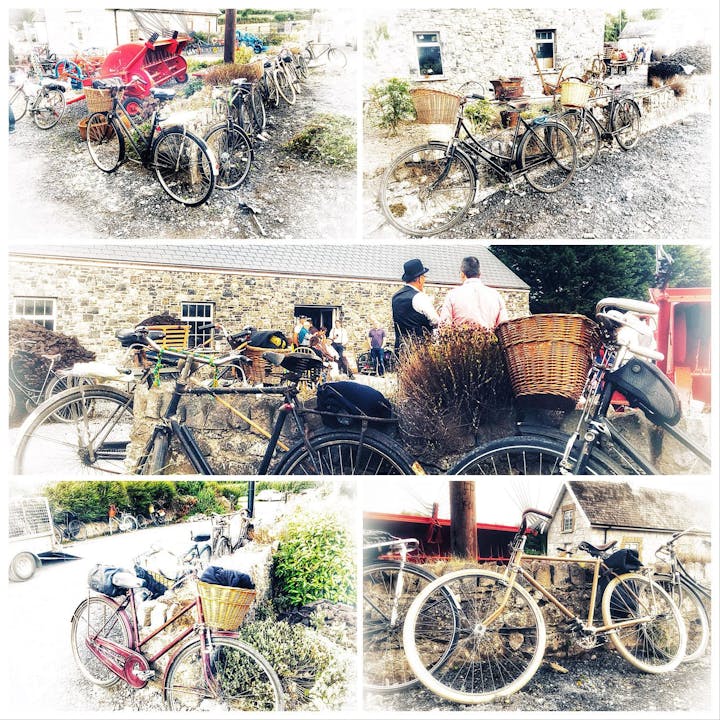 Aghaboe Abbey
Aghaboe Abbey was founded in the sixth century by St. Canice. The Abbey grew into a major centre of learning, commerce and agriculture. The astronomer St. Virgilius, also known as St. Feargal, was its abbot in the 700s before he left Ireland, going on to become Bishop of Salzburg, Austria. After the original monastery burned in 1234, it was rebuilt as an Augustinian priory. Today a Church of Ireland, which dates from the 1700s, stands where that priory once stood.
This church appears to contain some fragments of the Augustinians' buildings. On the east side of the doorway, visitors can see a carved limestone head that dates from the Middle Ages. The small belltower at the northwest corner of the church has the same proportions as one from the 1200s.The fine ruins on this site belong to a Dominican friary founded in 1382 by Finghan MacGillapatrick, Lord of Ossory.
The church, which was conserved by the local community, contains a beautifully carved three-light window in the east wall. Monks would have entered through the doorway in the north wall, which led from the cloister. The doorway in the west wall, through which the public would have entered the church, dates from the Middle Ages. Near Aghaboe Abbey the tree-covered remains of a Norman motte can be seen. The Normans would have built a wooden tower on top of this steep-sided mound of earth, where they could store their arms and from which they could keep a lookout for potential attackers. (Source: http//laois.ie/laoisheritagetrail/aghaboe-abbey/)
Aghaboe Abbey will be visited on Day One, of this year's Bulfin Heritage Cycle Rally.
Photograph below from Laois.ie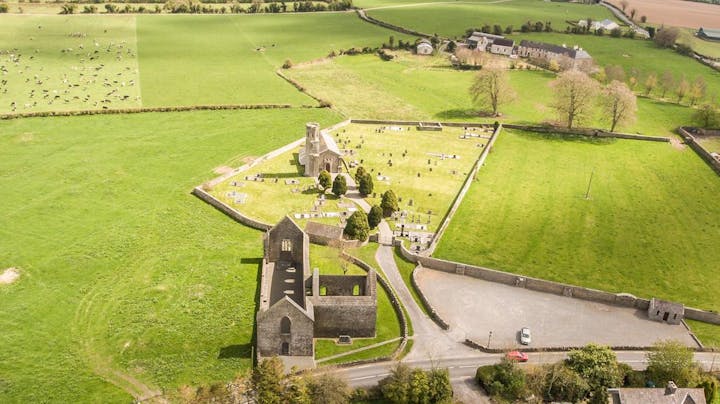 St. Canices Cathedral Kilkenny
Prior to his death in 1202, it was the vision of Bishop Felix O'Deleaney that the monastic settlement that was St Canice's should house a cathedral church. Since the 1120's the See of Ossory had been shifted from Aghaboe to Kilkenny but no new building was erected to mark the move. The bishop was one of the few who realised the significance of the Norman settlement of the region. In consequence, he established the foundations of the cathedral with a view that the practically minded Norman overlords would sponsor the stone masons to erect a house of God worthy of both worship and prestige.
Bishop O'Deleaney died before his vision became real. However in laying the foundations he left the challenge to his successors to complete the task. The 13th century cathedral of St Canice is the second longest cathedral in Ireland. The site on which the cathedral stands has been a site of Christian worship since the 6th century. The architectural style of the cathedral is Early Gothic and it is built of limestone. The cathedral has been carefully preserved in its original style and form. It is richly endowed with many stained glass windows including the East window which is a replica of the original 13th century window. (Source: www.askaboutireland.ie/)
St. Canice's Cathedral, Kilkenny, will be visited on Day Two, of this year's Bulfin Heritage Cycle Rally.