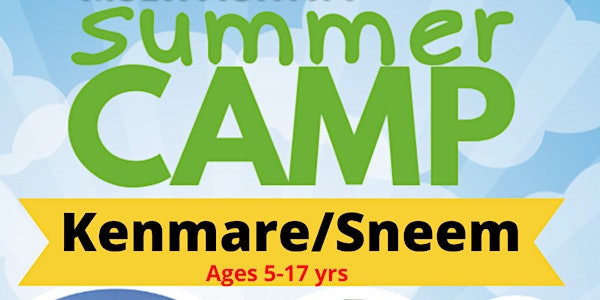 Kenmare/Sneem Summer Camps 2022 Літні табори 2022 (5-17 yrs)
Summer Camps 2022 Літні табори 2022
When and where
Location
Pobalscoil Inbhear Scéine Railway Road V93 K580 Kenmare Ireland
Refund Policy
Contact the organizer to request a refund.
About this event
The Kerry Community Response Forum are delighted to provide 'multi-activity' camps throughout the county, which focus on a range of sports and activities. Delivered by Active Kingdom, these camps have always provided better social, cognitive and physical learning opportunities for the kids that attend. Active Kingdom also incorporate team building/problem solving activities which promotes teamwork and social development, along with a range of other activities including:
Громадський Форум Реагування графства Керрі радий забезпечити роботу дитячих різногалузевих таборів по графству, які охоплюють різні види спорту та активної діяльності. Табори, організовані Жвавим Королівством (Active Kingdom) завжди відрізнялись кращими соціальними, когнітивними та фізичними можливостями розвитку для дітей, котрі їх відвідують. Жваве Королівство також використовує різні види діяльності спрямовані на тімбілдінг/стратегії вирішення проблем, які сприяють командній взаємодії та розвитку соціальних навичок під час наступних активностей:
• Ігри, спрямовані на тімбілдінг Team Building Games
• В пошуках скарбів Treasure Hunt
• Атлетика Athletics
• Гельські ігри Gaelic Games
• Футбол Football
• Олімпійський хендбол Olympic Handball
• Тег-регбі Tag Rugby
• Парашутні ігри Parachute Games
• Спартакіада Sports Day
• Веселі ігри Fun Games
The camps are supported by SICAP.
Transport support is available for those who require it.
При підтримці програми SICAP (Social Inclusion Community Activation Programme- Активізація громади через соціальну інклюзію).
При потребі можливе транспортне забезпечення.
I agree to the terms and conditions outlined on the opening page of this event
Я погоджуюсь з правилами та умовами зазначеними на головній сторінці даного заходу.
I consent to the use of photographs or video footage on the agencies of Kerry Community Response Forum websites, social media and in publications as well as newspaper.
Я даю згоду використовувати знятий фото- та відеоматеріл на сайтах Громадського Форуму Реагування графства Керрі, соціальних інтернетсторінках та в газетних публікаціях.
I consent that the information I have provided through this registration form can be shared with the agencies of Kerry Community Response Forum and Active Kingdom
Я даю згоду, що надана мною інформація в цій формі буде передана таким установам як Громадський Форум Реагування графства Керрі та Жваве Королівство
Do you agree with the terms and conditions of the camp (please note the below terms and conditions are our own and may need to be altered for how these camps are being run, e.g. as we will always have an indoor facility we should not need to cancel the camp due to bad weather, and also the part about refunds at the end of the 3rd paragraph)
Ви погоджуєтесь з умовами табору? (Зверніть увагу, що нижчезазначені умови є нашими власними і можливо будуть змінені, в залежності від того, як будуть проходити ці табори. Наприклад, у нас завжди буде варіант діяльності «під дахом», якщо буде дощова погода, таким чином табір відмінятися не буде. Прочитайте інформацію про відшкодування коштів в 3 абзаці)
Camp activities are subject to change from those advertised. Camps may need to be cancelled in cases of extreme weather conditions (refund provided on a pro-rata basis per days cancelled). In the case of bad weather indoor activities will be organised and children may be encouraged to participate in light rain towards the latter end of the day. Children who do not adhere to the rules of the camp (outlines on the first day of camp) may be asked to leave the camp (refund provided on a pro-rata basis per days omitted)
.Види діяльності в таборі можуть відрізнятися від зазначених в оголошенні. Табір може бути відмінено у випадку екстремальних погодних умов (кошти відшкодовуються пропорційно відмінених днів). У випадхах поганої погоди будуть організовані види діяльності «під дахом», також можливі заняття під легким дощем у другій половині дня. Діти, які не притримуються правил табору (будуть проголошені у перший день табору) можуть бути виключені (кошти відшкодовуються пропорційно пропущених днів)
Bullying or aggressive behaviour will not be tolerated under any circumstances and children engaging in such behaviour will be asked to sit out for a short period or may be asked not to turn up to the following day of camp following a conversation with the parent (refund provided on a pro-rata basis per days omitted). Active Kingdom will administer first aid by a qualified first aider and will arrange transport to a doctor/hospital if further medical care is required. Photographs/videos may be taken by Active Kingdom management for promotional purposes.
Булінг або агресивна поведінка не є допустимими при будь яких обставинах. Дітей, які проявили себе таким чином, попросять посидіти ізольовано від інших деякий час або не приходити в табір наступного дня обговоривши ситуацію з батьками (кошти відшкодовуються пропорційно пропущених днів).
Кваліфікований спеціаліст по наданню невідкладної допомоги організіції Жваве Королівство надасть першу допомогу та буде організовано транспорт до лікаря/лікарні при необхідності.
Представниками Жвавого Королівства може вестись фото- та відеозйомка в рекламних ціях.
No responsibility can be taken for loss/damaged property. By agreeing with the terms and conditions you accept the risks associated with your child/children partaking in physical activity and using the inflatable equipment. Active Kingdom are not responsible for any injury or death of participants unless proven negligence on the part of Active Kingdom is established. Active Kingdom have full public liability insurance for all of their activities. Personal accident insurance against any injury or loss at the camp is the responsibility of the client/parent. A day rate of €20 per day per child applies of booking less than the full week or when calculating refunds.
Організація не несе відповідальності за втрачені/пошкоджені матеріальні цінності.Погоджуючись на умови Ви приймаєте ризик пов'язаний з участю дитини в фізичних видах діяльності та використанням надувного обладнання. Жваве королівство не несе відповідальності за будь-які травми або смерть, якщо не доведено недбалість зі сторони Жвавого Королівства. Жваве королівство має повне страхування цивільної відповідальності для всіх своїх видів діяльності. Особисте страхування від нещасних випадків є відповідальністю клієнта/батьків. Ставка 20Є/день за дитину нараховується у випадку бронювання не повного тижня, а також при поверненні коштів.
Contact us if there are any questions regarding this privacy policy.
Звяжіться з нами якщо маєте питання стосовно даної політики конфіденційності.