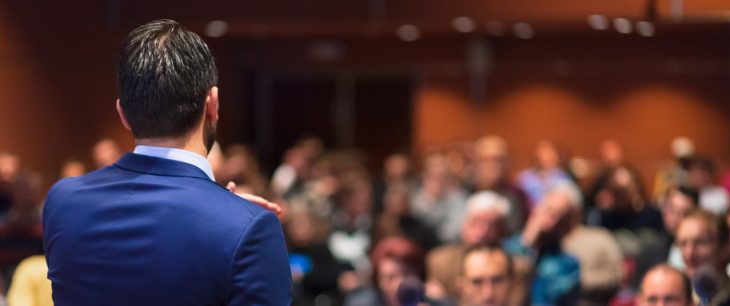 Looking Ahead for Your 2018 Conference Registration System
Organising a conference in 2018? Now is the time to start thinking about how you will manage registration.
Choosing the right online ticketing platform can make your event easier to promote, sell and run. But how do you weigh up the different systems available and decide which features are most valuable?
To help you make your selection, we've created a guide to the top 7 things to look for when assessing registration software.
1. What is the user experience like?
The customer is king, right? So the experience they have registering for your event is paramount. The process should be quick, easy and intuitive, with the information they need provided in a clear and attractive way.
Demo the system as a ticket purchaser and see what you think of the user experience. Does the system force you to sign up for an account? This step makes registration unnecessarily complicated, time-consuming and is likely to have a negative impact on your conversions.
Another factor influencing customer experience is page load time; attention spans are short and people become easily frustrated if they're made to wait. Your customers should be able to complete their registration quickly and efficiently, and – dare we say it – enjoyably!
2. Is it mobile responsive?
Mobile responsiveness is a critical part of user experience, with more websites now loaded on mobile devices than on desktops, and 50% of UK e-commerce sales made with a smartphone.
It's safe to assume that a high percentage of your delegates will be using their mobile devices to both research your event and buy tickets. So, if you're using a ticketing partner that is not mobile-friendly, your sales will suffer big time. Your SEO will too – Google penalises non-responsive sites in search returns.
To be sure your users will have a good experience whatever device they're using, check your potential partner by trying to buy a ticket on a mobile, tablet, Mac and PC and with different browsers. It should be seamless across them all.
3. Is it trusted?
It's important to realise that you're asking people to take a leap of faith when they make an online purchase. Instilling customers with trust when they hand over their personal and financial details is essential or they will be reluctant to do so.
If you opt for a little-known ticketing partner, your delegates might not feel confident when making a purchase. They might worry that their card details could be misused or that their data might be sold on. Choosing a brand with a trusted reputation will help increase sales and reflect well on your own brand.
As well as a robust data protection policy, be sure your ticketing partner is compliant with the Payment Card Industry Data Security Standard (PCI), which ensures that attendee credit card information is being stored in a secure environment. Also, check they have a dedicated team to deal with incidences of ticket fraud or any other complaints.
4.  Does it integrate?
If you're planning on promoting your event across different platforms, you'll want a ticketing partner that can integrate. How easy is it to put ticket buying functionality into your own website or blog and make it appear like a native part of the site?
How about the ability to publish your conference to Facebook Events and allow users to complete ticket purchases within Facebook? The more integrated a ticketing platform is, and the fewer steps a customer has to take to make a purchase, the higher conversions will be.
Another consideration is how the system integrates with the other tools you use, such as CRM systems, survey platforms and email marketing providers. Opt for a ticketing platform with established partnerships to make your life as easy as possible.
5. What data can you capture?
Capturing data is key for optimising your sales and marketing efforts – both now and in the future, so you need to understand what you can gather in the registration process. Does the system offer the ability to customise what data you collect? What sales data is recorded?
Another key factor is ownership of that data. You should have full control and ownership of your customer and event data and be able to access it whenever you want – even years later. This sounds obvious, but some ticketing platforms limit what you can see and when.
You should also look at how easy it is to work with the data collected outside of the platform – can it be exported or automatically synced to your CRM database?
6. How good are its reporting abilities?
It's all very well collecting the data, but what can you do with it? Does the ticketing partner help you to analyse the figures and gain actionable insights? Does it provide the data in real-time as sales are made? Some platforms only provide basic weekly reports, which limits how agile you can be.
A great partner will enable you to see which marketing tactics are driving the most traffic and sales. It will provide interactive graphs that bring the numbers to life and a range of reports on factors such as which ticket types are selling best and whereabouts in the country people are buying tickets from.
This is all intelligence that you can use to more effectively spend your marketing budget and shape your event proposition. It's invaluable insight, so make sure you can view your data and generate reports, on-demand and on any device.
7. Does it provide on-site check in?
When evaluating registration partners don't forget to look at what they offer you on the day of your conference. How will they help you streamline the entry process and avoid long queues?
Will delegates be able to access their tickets on their mobile devices as well as print them out? Will you be able to check them in by scanning a barcode or QR code with your own mobile device? Will you also be able to check attendees in manually, in case they have forgotten or can't access their ticket?
You'll want a provider with flexible entry management technology, which can be used across multiple devices at the same time. That way you can have more than one person checking delegates in, at more than one entry point and avoid bottlenecks. Additionally, be sure that check-in data is synced in real-time so you can see exactly who has entered the venue.
Conclusion
Not all ticketing partners are created equal. Take the time now to familiarise yourself with the different platforms and work out which is the best partner for you, before your conference planning kicks off in earnest. It'll be one less thing to think about!
Oh, and it goes without saying, that Eventbrite meets all of the above criteria and more. To hear about all our fantastic features and how we can make your conference a success call 0800 652 4993.