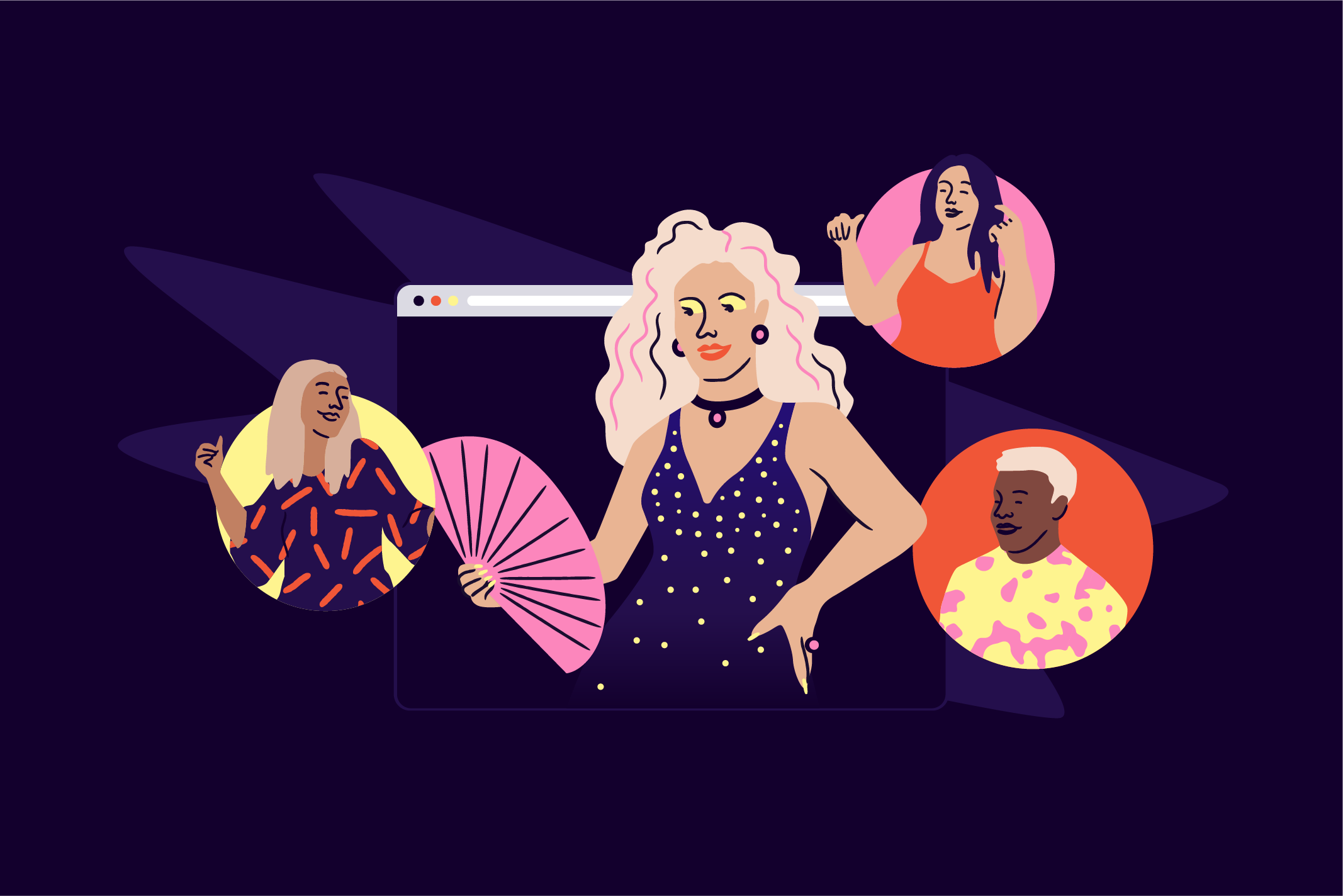 Creating a Virtual Safe Space for Attendees: How to Make Events More Inclusive in 2021
One silver lining of the past year is the rise of online events. Making it easier to reach communities across the globe, virtual events are also a highly effective way to promote accessibility. They give people who may not be able to attend in-person events the chance to connect, learn, and share their experiences.
If you believe in the importance of social inclusion, you only need to take a few small steps to help everyone enjoy themselves, regardless of their background or needs. Becky Young from Anti Diet Riot Club is one event creator who has been leading the way. Part of a community dedicated to fighting "diet culture" and its associated body and beauty ideals, she has been successfully building virtual safe spaces, such as online life drawing classes, and has plenty of valuable tips on promoting inclusion with online events.
Remove geographic boundaries to reach more people
Geography can be a huge barrier to inclusion, especially because a lot of events – including Anti Diet Riot Club's – are often held in larger cities like London. But online events can expand your reach to those who live in places that may lack equality and diversity events. "There are so many more people who we can access, and who can access us," Young tells Eventbrite. "And we can reach their partners, their mums, their dads, their housemates. People that might not come to events in person are now sitting in on our life drawing classes or whatever events we're doing." That, she adds, gives the virtual events a unique touch "because it's not often that people would bring their parents or their grandparents along."
Online events can also benefit those who have concerns about travelling or accessibility. This can include those with chronic illnesses or disabilities and even single parents who don't have childcare.
Communication is key
Helping your attendees to feel prepared will also increase their comfort levels. "We've learned to try and be transparent about [things] at the beginning as much as possible," Young says. Anti Diet Riot Club makes clear in its life drawing event descriptions that "this is NOT a serious art class" and is open to all levels and abilities.
Pre-event communication can play a major role in getting these messages across, and Young highlights the emails sent out by Eventbrite as an important part of an inclusivity strategy. You can also include health and content warnings on your event landing page so that potential attendees have the full picture before booking a ticket. Don't forget to use inclusive language in all forms of communication – for example, saying "pregnant people" in order to include trans men and non-binary folk.
Give extra support to in-need communities
Having a variety of ticket prices is key to supporting marginalised communities. This is something that Anti Diet Riot Club does well, offering a tiered system of full-price, cut-price, and free tickets. "We have to accept that not everyone is going to have the means to come and pay extortionate amounts," says Young. For Anti Diet Riot Club activities, people don't need to give a reason why they need a discounted ticket  – they just need to reach out. Interestingly, this is a system that's rarely abused. Most people do buy the full-price tickets, Young adds. "Most people want to give. If you're offering something valuable, they want to give you something back as well." But by offering tickets at a reduced price, the events become accessible to people on lower incomes.
Eliminate obstacles
Making in-person events more inclusive comes with physical considerations, such as ensuring that the venue is accessible, that there are British Sign Language (BSL) interpreters, and that gender-neutral bathrooms are available. The online space is a little different when it comes to diversity events as it relies on technology. For example, closed captions are a great way to make your event accessible to those who are deaf or hard of hearing. There are even plenty of tools to generate them automatically – Young recommends Rev and Otter.io.
Another way to make your event more inclusive is to use platforms most people are already familiar with such as Facebook Live, Instagram, or YouTube. This means that people with a lack of technical expertise don't have to worry about downloading new software. If you do choose to use the likes of Zoom or Vimeo, send step-by-step instructions well in advance of the event, so attendees know how to access the stream on the day.
Make people feel comfortable
To help all attendees feel relaxed and welcome, it's useful to plan your event as a virtual safe space. While Anti Diet Riot Club's life drawing classes are a joyous way to promote body positivity, they do have the potential to be daunting. As well as feeling nervous about non-sexual nudity, some attendees also feel unsure about expressing themselves creatively. To alleviate this pressure, every session begins with a few fun warm-up games, such as "drawing with your non-dominant hand, drawing with your eyes closed, or not looking down at the paper." The aim is to "get people to be less perfectionist and less judgmental of their own art, and [enjoy] the process and experience as we go along," says Young. "We also do a lot of check-ins at the beginning, in the middle, and at the end just to see how people are feeling."
Make participation optional
Asking people to turn on their webcams and microphones might feel like a good way to build atmosphere, but Young warns that this can be problematic for a number of reasons. Some people may have social anxiety, others may have speech disabilities, and some may not be able to afford a speedy internet connection. Young suggests making participation optional, and keeping the chat box open for those who would prefer to type rather than talk.
Bring a moderator on board
If your attendees have access to a chat box, it's important to keep an eye on it and make sure it's also a safe space, without any arguments or inflammatory language. The best way to do that is to have a moderator on hand. You can focus on presenting the event while they guide the conversation and answer questions. Young also points out that your moderator can fill in any knowledge gaps: "They can reiterate anything in the chat that someone might have missed, or [points where] the closed captions weren't clear enough."
Provide recordings for those who can't make it
One massive benefit of online events is the ability to record and distribute the content to attendees afterwards. As an event creator, Young has sympathy for people who need to drop out at the last minute. "I'm a big flake," she says. "And I think everyone's allowed to be a big flake. If you can't come, then you can't come." People may need to skip events for a variety of reasons – they could be suffering from poor mental health and no longer feel up to attending. Making the content available afterwards ensures it's accessible to ticket-holders at any time.
Are you ready to make your event more inclusive?
Working towards fully inclusive and diverse events is an ongoing task. You can fulfil a variety of different needs using online events, as you don't have venue limitations to consider. But there are still plenty of ways you can improve your social inclusion activities, from using more inclusive language to providing extra support for specific communities. As Young says, "it doesn't need to be tokenistic or box-ticking. If it's clear that you're coming at it from different angles and taking into account that people have such divergent experiences, they'll feel included with you."
Whatever themes for diversity events you have in mind, find out more about how to make them fully inclusive.