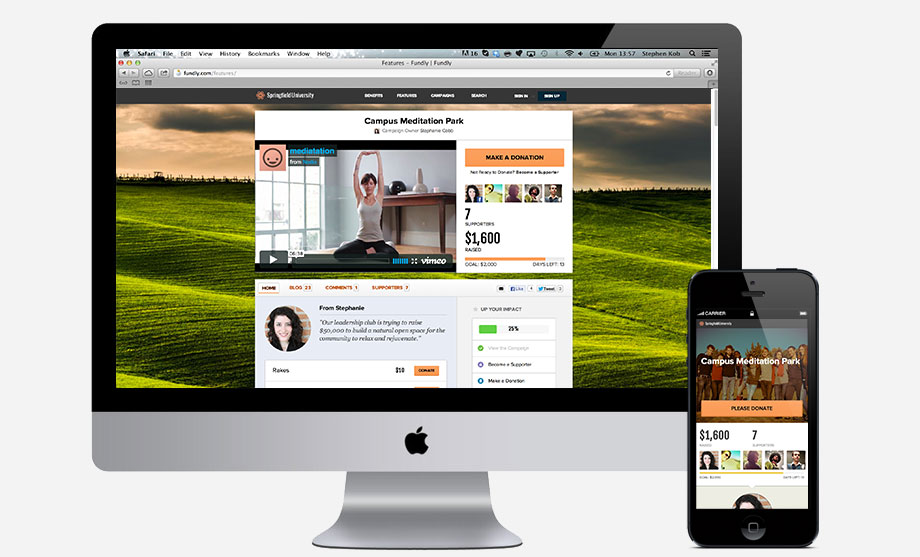 6 Event Fundraising Tools You Need to Try
Fundraising is hard work. You can make it easier by utilising some of the fantastic technology and event fundraising tools specially designed to help you maximise donations.
Eventbrite has partnered with six of the leading online solutions for non-profits to bring you useful apps that integrate beautifully with your events.
From tools that help you gain valuable insights from supporter data to widgets that facilitate sponsorship and donations, you can give your fundraising events a huge boost with this clever tech…
Adding an online auction to your charity event is a great way to engage attendees before the day and raise extra funds.
Turn to corporate supporters to donate prizes or hold a skills auction with lots donated by individual supporters, such as lawn mowing or piano lessons. It's often easier to donate time than it is money.
You could even auction VIP privileges at your event such as a private meet and greet with celebrity guests or the opportunity to present their businesses on stage.
BiddingForGood's Auction Manager offers tools to solicit, manage, create and preview lots, and provides you with a brandable auction homepage with its own unique URL.
Once an auction on BiddingForGood's platform has been linked with an event inside Eventbrite, attendee information can be synced. This enables you to see which of your attendees have registered on BiddingForGood in order to bid in the auction.
There are also tools to create dynamic emails to encourage attendees to register to bid before an event.
Meanwhile, the platform includes a leaderboard of top items and top bidders to help encourage more bidding. Once your auction has ended, simply complete credit card processing, send automated receipts and thank you emails, and print a winning bidder report.
The system makes it easy to announce on the night exactly how much has been raised and who your most generous bidders were.
Getting to know your event attendees and keeping in touch is vital if you want them to become repeat donors. Using a donor management solution can help you do that.
With The Raiser's Edge you can effectively manage your donor base and build lifelong support. It can help take your fundraising events to the next level, especially since it now includes integration with Eventbrite!
The Importacular app enables you to import event data direct from Eventbrite into The Raiser's Edge. Specify what event and which data you're interested in and it will be automatically synced to the corresponding fields within the platform, saving you from time-consuming data entry.
So, what can you do with the data once it's inside Raiser's Edge? You can create attendee records that will log every future touchpoint those individuals have with your cause. This enables you to build a complete 360-degree view of your supporters.
In turn, The Raiser's Edge can utilise this data to help identify those donors with the greatest capacity and likelihood to give to your organisation, leading to more powerful marketing and fundraising.
Another fantastic solution for managing attendee and donor data is Neon, a cloud CRM database built specifically for non-profits.
Features boasted by this platform include 'smart householding', which provides an aggregate household view of combined household contributions and event attendance, as well as the ability to build dynamic email audiences based on sophisticated data queries.
Using Neon in conjunction with Eventbrite, you can seamlessly sync your event attendee data, automatically creating new records in the database or matching them to existing ones.
This way, when someone registers for an event you'll know if they're a prospect or already in your system, enabling you to more effectively tailor your communications.
Meanwhile, you can report and communicate on your Eventbrite history in NeonCRM alongside donor and membership data, giving you a complete overview of your interactions with supporters.
If you're organising a mass participation fundraising event, you'll want to equip your participants with the tools they need to gain sponsorship.
Central to this is an online fundraising page where participants can detail their fundraising target and easily take pledges from their friends and family.
Eventbrite has partnered with JustGiving to enable attendees to set up their own fundraising pages in a matter of seconds.
Meanwhile, you can retain control of your brand image by defining certain defaults for each fundraising page created, such as page story, image and fundraising target.
On completing the purchase of their ticket, the attendee is automatically taken to JustGiving. Here, they can quickly and effortlessly complete their fundraising page and start reaching out to their connections via email, Facebook and Twitter.
Eventbrite's FirstGiving app offers organisers another way to help attendees with their individual fundraising efforts.
Add a 'Call To Action' to your event's order confirmation page, prompting registrants to set up their own fundraising page on FirstGiving. Not only does this make the process super simple for attendees, it also allows you to keep tabs on exactly how much has been raised.
All fundraising pages set up by attendees sync with your FirstGiving account where reporting will be aggregated with your event sales, giving you visibility of overall revenue generated – no need to combine Excel reports.
Another benefit of the integration is the ability to email Eventbrite registrants directly from the FirstGiving platform. You can send out customised emails, or set up automated emails for those that make a donation.
Just because your event does not involve mass participation doesn't mean you can't reach out for extra donations.
Launching a fundraising campaign for a specific project to run alongside your live event is a great way increase both interest and support. For example, you might run a campaign to raise funds for an accessible minibus that culminates in a gala dinner where the vehicle will be presented to the recipients.
With Fundly you can quickly set up fundraising pages for your events. Install the app from your Eventbrite dashboard and Fundly will automatically create your campaign page using your Eventbrite credentials.
You are able to completely tailor the campaign page to match your brand, with customisable colour schemes and backgrounds.
Specify your fundraising goal and any 'giving levels' and then Fundly will create a payment processing account via its partnership with Stripe.com, enabling you to immediately accept donations through your campaign page.
Related: 15 Unique, unusual and fantastic fundraising event ideas
Conclusion
Income from ticket sales is just one prong of your fundraising event's potential revenue. Use these tools to generate extra revenue via auctions, sponsorship, project donations and to develop relationships with attendees that lead to on going support. Spectrum apps can be activated from your Eventbrite dashboard.