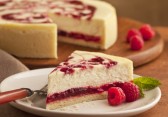 How Do You Build A Food & Drink Business?
The Food Business
Ever wanted to set up your own food or drinks business? If so these two talks are a perfect insight to what it takes to build a successful business no matter what the size.
During lunchtime on Wednesday the 10th June, Rebecca Cronin of Ballymaloe will explain why their Kerrygold Litfest is important to their business.
The name Ballymaloe is so well known in Ireland and abroad for it's prowess and leadership around food, seasonal produce and sustainability. The team at Ballymaloe are always creating and trying new things, one of which was establishing Litfest.
About the speaker:
Rebecca Cronin has been festival manager of Ballymaloe's literary festival of food and wine for three years now. The inaugural event took place in May 2013 and the third successful Litfest has just taken place on the weekend 15th-17th May 2015. The literary festival of food and wine grew from a suggestion that was made by Geoffrey Dobbs, Founder of Galle Literary Festival in Sri Lanka… 'Isn't it about time Ballymaloe celebrated their literary tradition?'
After three Ballymaloe generations of cookery books being published, Geoffrey had a point. It was about time Ballymaloe created a festival that celebrated food and wine writing.
What to expect:
– Rebecca will give a presentation about the background to Litfest and explore why it helps grow Ballymaloe's business.
– There will be time at the end for Q&A
Refreshments: 
– There will be complimentary coffee and tea.
Timing:
– 12:00pm doors open.
– 12:30pm presentation starts.
– 1:30pm presentation ends.
– Q&A 1:30pm – 2:00pm
RSVP:
You can RSVP your free spot here…
The Drinks Business
On the evening of Wednesday the 10th of June we will have a panel discussion around the business of alcohol. The drinks industry in Ireland has always been strong however with the entrance of more brands that means more competition. How does craft beer make a living in such a competitive market? How do bigger brands stay relevant? Do beer festivals work for alcohol makers? These are some of the questions that this event will seek to answer.
About the speakers:
This will be a panel discussion with Barry Cassidy, assistant brand manager of Murphy's, Beamish and Foster's. Sam Black, founder of Blacks of Kinsale and Daryl Cronin, director of On Tap Events.
What to expect:
– This event will be of interest to anyone in the foods and drinks business. However the learnings from this talk can be applied to a variety of business types.
– It will be a discussion around how to build your business with the budget that you have. The importance of branding. How events can help grow your business.
– It will be a moderated panel.
– There will be time for Q&A after.
Refreshments:
– There will be complimentary drinks.
Timing:
– Doors open at 6:00pm
– Talk starts at 6:30pm
– Talk ends at 7:30pm
– Q&A 7:30pm – 8:00pm
RSVP:
You can RSVP your free spot here…
This is all part of a free event series around doing business better. You can explore the full listings here…