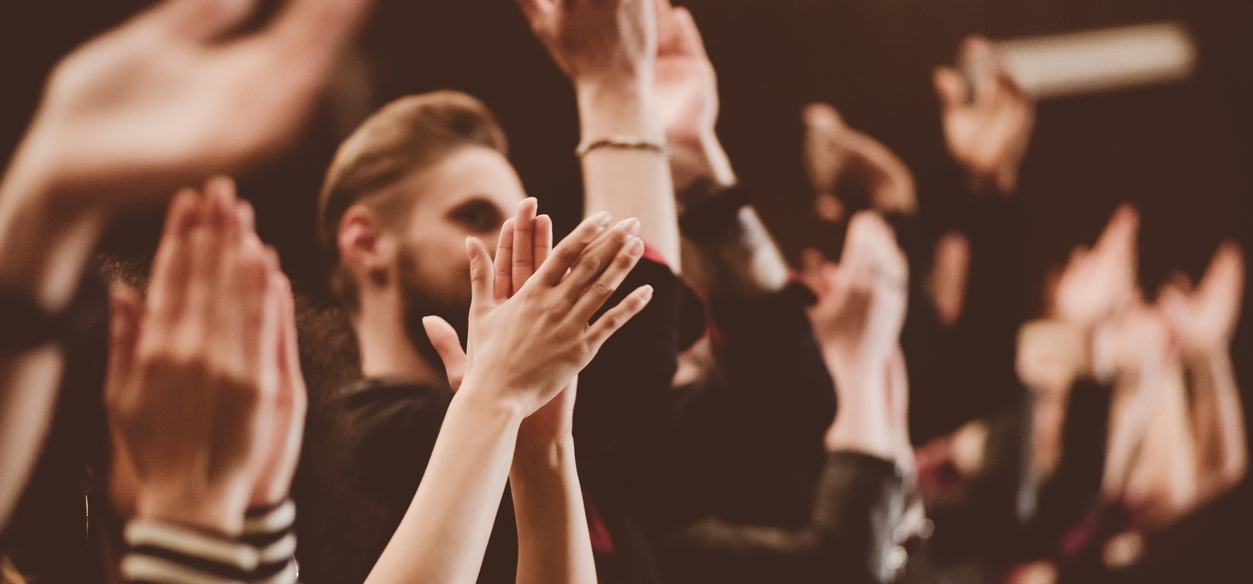 7 Badass Venue Logistics Tips
Planning an event means juggling about 100 tasks at once — and it's easy to let things to slip through the cracks. Luckily, there are several things you can check off your list well in advance of the big day.
To learn some of the most important (and often overlooked) pre-event considerations, we checked out Karen Hartline's recent talk at HubSpot's INBOUND 2016 conference. With more than 14 years of event production, and the CEO of production company Reinventing Events, Karen knows a thing or two about planning for the unexpected.
Following her incredibly successful "50 Tips to Hosting Badass Events" talk in 2015, this year she dove even deeper with 25 more tips for hosting badass events.
Here are our 7 favourite tips for flawless venue logistics from this year's talk:
1) Think outside (and above) the box
Think about the event experience from the attendees' perspective: a lot of hotel ballrooms or conference centres can feel pretty much the same. So what can you do to bring a local flair and make your event feel unique? Don't get caught booking the same stuffy locations for every event; look for venues with personality.
And don't just think about eye-level ways to spruce up the space. Consider fun and functional floor directional signage, a cool gobo uplight, or ways to use the high ceilings of a ballroom or convention centre. Try wall wraps, pops of colour to elevate a boring escalator space, and other affordable ways to dress up and brand your event. (Pro Tip: use Graphtec vinyl, which won't damage walls and leave you paying extra.)
2) Consider all space needs
When looking for a venue, make a list of everything you'll actually need onsite: the number of rooms, chairs, risers, stages, bars, etc. Don't forget things like green rooms for speakers, a speaker check-in location, coat checks, and the all-important (yet often-forgotten) storage spaces.
Then add at least a third more space to your venue for unforeseen needs. As you're planning, some other cool opportunies will inevitably come up, and it would be a shame for your creative ideas to be hindered by a too-small event space.
3) Find secret resources
There are tonnes of resources online for event professionals — sometimes you just have to dig a little. Eventup.com, Hire Space, Head Box and Eventopedia are all great tools for finding smaller, unique venues like funky bars, personal homes, and more.
The Convention and Visitors Bureau is a heavy-duty tool to help professional planners find and book major event spaces worldwide. You can view detailed event calendars to see what else is going on at a given location, and submit an RFP right through the site when you find the right spot.
4) Don't skip the fine print
Everyone knows you're supposed to read contracts carefully, but in busy times, that can often turn into skimming. Unfortunately, missing fine print and hidden fees can have disastrous consequences on your bottom line. Always dig into the details and ask for more information when you see "other fees may apply."
Read the text carefully and make sure you're clear on payment, due dates, and permits you're responsible for obtaining. It's best to ask about trash removal, "greening" fees, hidden taxes, and anything thing else that could add to your costs. And remember: "Wifi in the venue" doesn't mean it's free for you!
5) Get full quotes from vendors
Along those lines, make sure you're getting vendor quotes that are inclusive of everything they will charge you, including taxes, service, delivery, and admin fees. Ask them to include load-out days and timeframes in the contracts, and make sure that meshes with your venue schedule. And most importantly: review contract revisions side by side every time to make sure every line item is correct — in every version.
While tedious, you'll be surprised how many times you'll find small mistakes that don't reflect your most recent conversations. And once you sign off on incorrect details, it can be a headache trying to adjust or get your money back. Don't forget to follow this up with a diligent check of your credit card statement to make sure the charges are accurate.
6) Always over AND underestimate
While everyone aims for a sell-out event, don't only look at a best case scenario. New organisers often make their projections based on 100% ticket sales, but even if your event sells out, you're probably not selling each and every ticket. Instead, add a "75% sold" column to your event budget to account for discounts, comps, or underselling, and try to work off this amount.
And while it can feel painful, always overestimate your costs and expenses. No matter how diligent you are in the planning and contracts process, last-minute expenses are inevitable. By planning for them, you can help avoid unneeded anxiety in the already stressful weeks leading up to the event. And if you have extra revenue at the end, you can add that ice luge you had your eye on!
7) Talk to all speakers ahead of time!
It's your responsibility to make sure your speakers are prepped and ready to go on event day. Schedule a 20 to 30-minute call a few weeks ahead of time to make sure you're on the same page. Ideally, spend the first half chatting about presentation content and structure — and don't feel bad weighing in here.
The attendees' experience is one of your top concerns, so providing helpful guidance on presentations is critical. Then, spend the last half of the call talking through logistics, timing, travel specifics, contact information, a fun fact to use in your promotion, etc. Bonus points for sending a detailed pre-call email to prep your speaker for the call.
Want more event logistics tips and advice?
For the rest of Karen's tips on hosting badass events, you can check out her INBOUND 2016 presentation slideshow. And for more help pulling off a flawless production, get expert advice from Tommy Goodwin, Director of Field Operations at Eventbrite, on how to craft a solid event logistics strategy for your festival.